Product Description
FULL HD 1080P 120 degree FPV CAMERA
RunCam HD
Especially designed for FPV hobbyists by RunCam,
this mini HD FPV camera provides high image resolution of 1080P@30fps and 720P@60fps.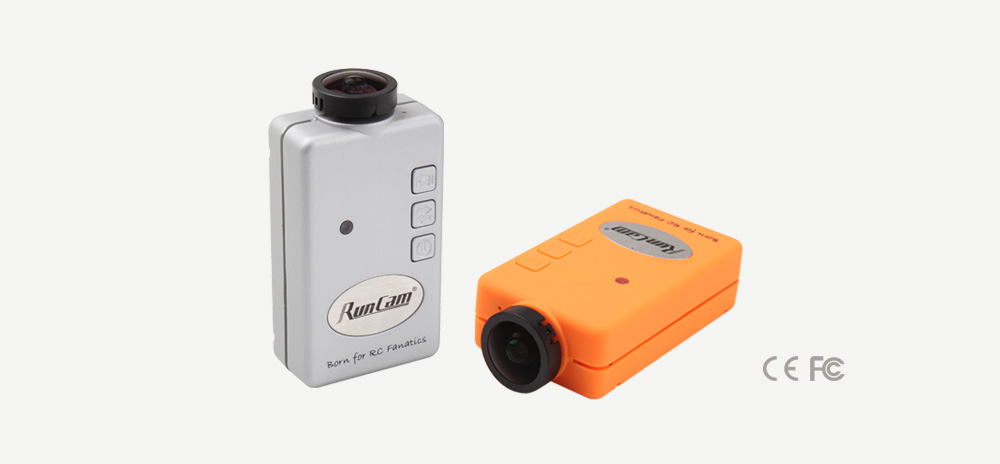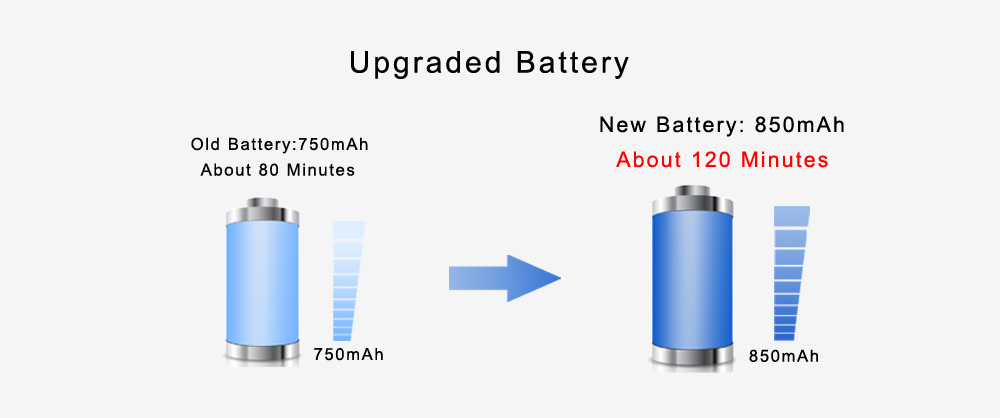 Better And Better
RunCam HD is using Novatek NT96650 DSP,which is low-power
DSP combined with H.264 video compression technology.
It provides FPV enthusiasts with higher quality results on Full HD.
*The battery can last for about 120 minutes.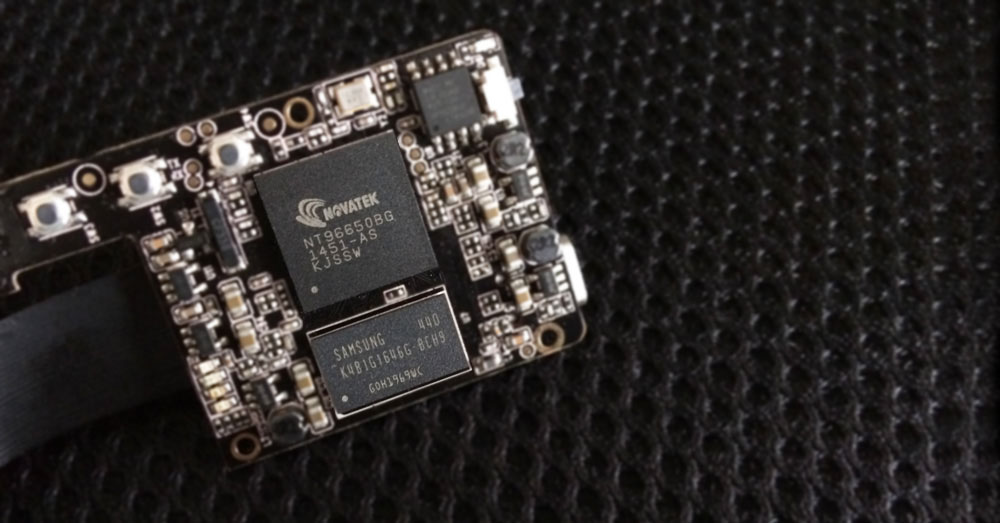 F2.8 Aperture, Fever of pursuing the ultimate
The new F2.8 Aperture lens adopts aspherical glass, which is featured with Higher Sharpness, Less Image Distortion and Less Halo Effect.
Using the different lens coating technology, the new lens delivers more natural and gorgeous image.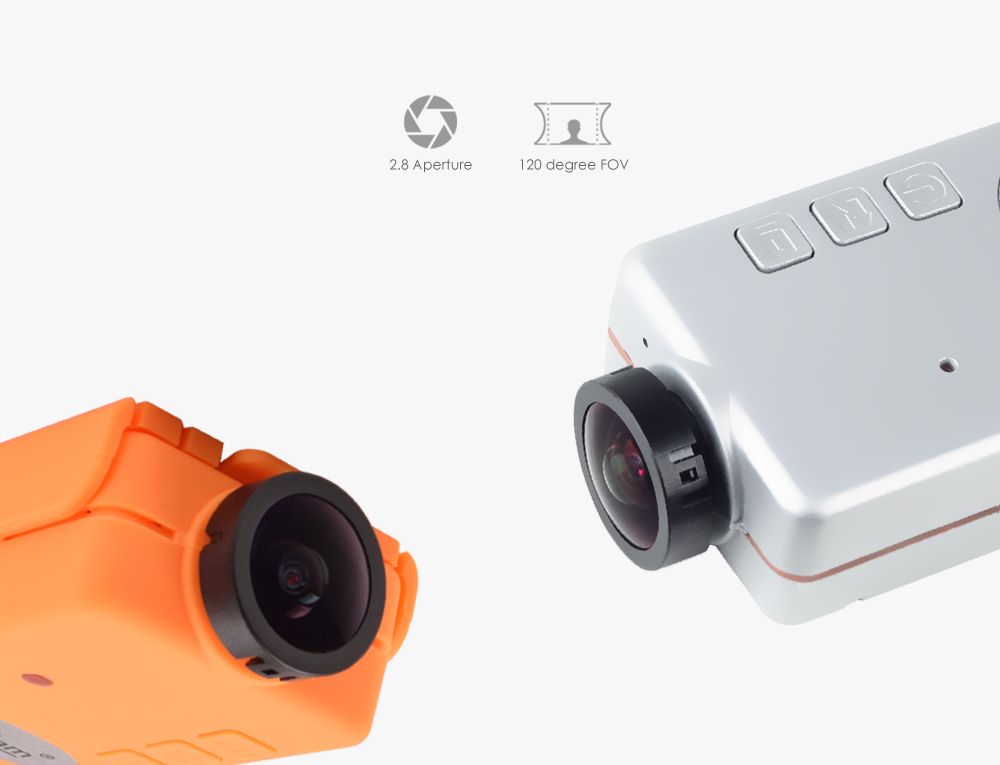 Rare To See
It optimizes function of shielding for RF Noise, especially for
some frequency band of communication like GPS and 433 MHz.
It effectively reduces the RF Noise intrusion to other electronic equipment.
Note: For orange version, function of RF noise shielding is invalid.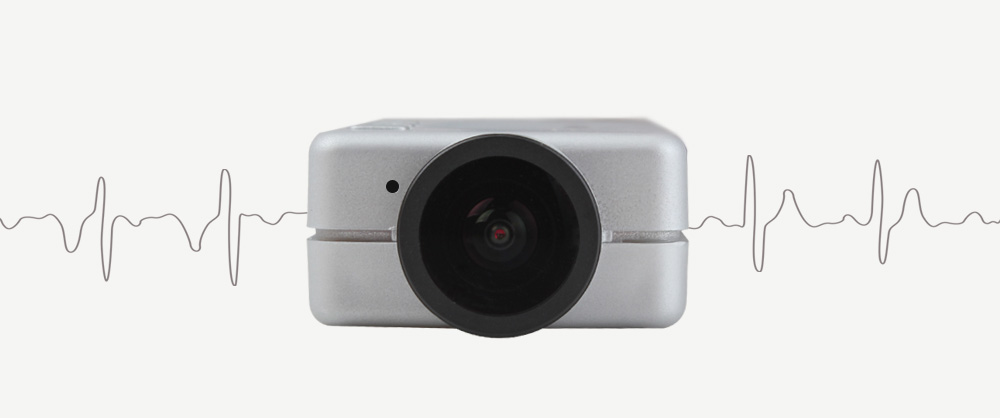 Survival Of The Fittest
Not using traditional plastic, the Mini USB TV-out Cable of RunCam HD is made of
silicone materials. It has been received by the user's praise for
the good feel of it and good tensile resistance.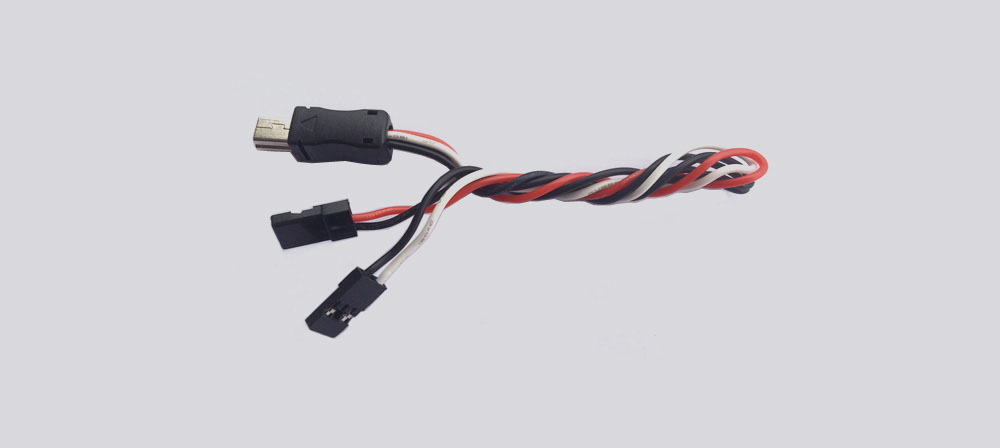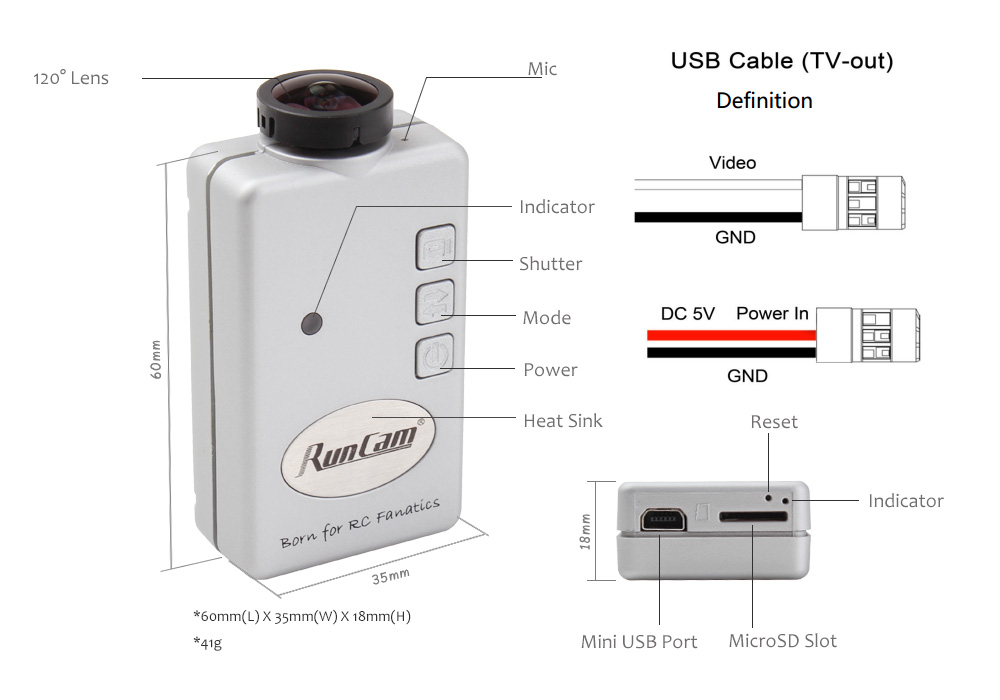 Specifications
| | |
| --- | --- |
| Angle of Field | F.O.V 120° |
| Photo Resolution | 3MP |
| Video Resolution | 1080P 30FPS FULL HD, 720P 60FPS, 720P 30FPS HD |
| Video/photo Files Format | *.MOV, *.AVI, *.MP4 / *.JPG |
| Live TV Video Output | NTSC / PAL |
| Interface | Mini USB |
| Max TF Card Supported | 32G(Suggest using Class 6 or above) |
| Image Flip | 180 Deg Roation |
| Weight | 41 g |
| Dimension | 60mm(L) * 35mm(W) * 18mm(H) |
| Rechargeable LIPO Battery | 850mah |
| Continuous Recording Time | About 120 Minute |
| Working Voltage | DC 5V |
| Working Current | <500mAH |
Video
Thanks for the video from our customers.
Download
FAQ
FAQ
Q: Can you provide the instructions about the firmware upgrading and configuration software of RunCam HD Camera?
A: Hi, Please click

here

to get the details.
Q: Got problems to run the " RunCamTool.exe " file on your Computer?
A: Hi, You need to install Microsoft .NET Framework 4.0 first, please click

here

to downlaod it.
Q: There is a problem with the config utility, the error message says there is a missing DLL. How to fix this?
A: Hi, Please go to Microsoft

here

, and to download the 32bit (the first file) or 64bit (the last file) option and install it.
Q: How to comvert the ".MOV" format file to be ".AVI" format?
A: Hi, You can use "MP4Cam2AVI" to convert *.MOV to *.AVI before try editing on movie editor. Please download it from

here

.
Q: RunCam HD can be used as a WEB Cam?
A: Hi, Please remove the TF card, and connect it to your PC, and then run "amcap.exe". Please download "amcap.exe" from

here

.
Q: The configuration file that the config software generated is not disappear, what is the problem?
A: Hi, Make sure the file name of the configure file "DCTCONFIG.bin" is never changed. And you put this file into the root directory of TF card. If file name is changed, it wouldn't disappear.
Q: If I switched to 720/60 via the confi software, how I switch back to 1080, if I don't have this option?
A: Hi, When you switch the mode between 720@60 and 720@30, it just change the frame rate under 720P, and wouldn't affect the frame rate of 1080P. Just simply press the camera's mode button (when you see orange light on), you've switched it back to 1080P.
Q: Looks great! What's the weight of the RunCam HD?
A: Hi, About 41g.
Q: Is it possible to change the lens?
A: Hi, The lens angle of RunCam HD is 120 degree, which is not able to change for now. We are trying to select a 100 degree one and will launch later.
Q: I have a regular 8GB menory card. Is it compatible with it?
A: Hi, RunCam HD supports max. 32GB TF card (suggest using Class 6 or above).
Product Reviews
Write Review
Showing reviews 1-50 of 95 | Next
excellent produit

Posted by jeremy on 20th Jun 2017

Tres bon produit j en suis tres content. Tres bonne qualité d enregistrement je la conseil.

Good camera for the price

Posted by Adam on 15th Jan 2017

On my 2nd one. Great for the price. can't complain. I wish the optics were better to eliminate fish eye distortion around edges.

Bang for the Buck

Posted by Edgar Hughes on 8th Jan 2017

Impossible to get near RunCamHD for this price. I have the Cheaper and some more expensive GoPro HERO clones. They are big hard to start hard to stop and lower video quality. You can not go wrong with this buy.
Only issue is you have to 3m 9448 bond a camera thread adapter to the bottom holder. It is low $ but IMO better due to the fact you chose what type of adapter you want to use.

Excellent small camera

Posted by David Tetreault on 5th Nov 2016

Works well for what I purchased it for. The wide angle lens is clear as is the sound. Here's the first review I did with the RunCam HD. https://youtu.be/tHkTsoY3nPs

Value and Quality in Perfect Balance.

Posted by Birdmanpete on 22nd Oct 2016

I am delighted with my RunCam HD. In my collection it is replacing a five year old Mobius which has been very impressive but which never had the resolution which RunCam offers. A huge plus of this design, which sets it apart from bigger price alternatives, is its low frontal drag profile. This hugely reduces the risk of accidental collision and, in flying model situations, the inevitably negative effect of self generated air turbulence.

Great Video/Picture camera for the money

Posted by Drone Rivers on 18th Sep 2016

Pros:Great video quality,Well built,A fair price.Cons:Updating the firmware was a little difficult,Software for settings could be easier and more user friendly,that's why I give it 4 stars.

Good Quality

Posted by Ridho Rizanov on 6th Jul 2016

Very nice product with fast delivery. The camera produces excellent quality of image and video. The camera weight is also very light, I was very impressed with it. The only problem is that you have to connect the camera to a computer when you want to do configuration. And the configuration settings option are very outdated (latest firmware). Hopefully it could be better.

Отличная камера

Posted by Unknown on 5th Apr 2016

Быстро пришла , это моя первая мини камера , качество хорошее ,камера однозначно стоит своих денег . Для моих нужд занимаюсь авиамоделизмом самое то . Покупал оранжевую версию , качество пластика хорошее ,приятное на ощупь . Качеством видео полностью доволен ! ))

Buen servicio

Posted by idem on 7th Mar 2016

Buena relacion calidad precio, envio rapido y buena calidad.

RUNCAM Runs Great :)

Posted by PINAK OZA on 15th Feb 2016

Runcam is really good camera for FPV purpose. Battery lasts long and quality of video is really nice. Having used Mobius so far, I see no big difference between two.
Watch Runcam FPV video here:

https://www.youtube.com/watch?v=KLtwZVuBepE

I am using both on my quadcopter as you can see it here...

https://www.youtube.com/watch?v=IJefBO6dge0


Camera excelente

Posted by Ivan Valle on 16th Jan 2016

Muito boa. Realmente cumpre o prometido!
Muito fácil e rápido de selecionar os modos de filmagens e fotografia.
A camera necessita de cartão de memoria para o funcionamento, por isso compensa ja comprar com um.
Pedi para que declarassem apenas 15 dolares para que a receita tributasse em cima disso e funcionou!

RunCam HD

Posted by Unknown on 13th Jan 2016

Caméra reçue dans les délais et très bien emballée. Tout y est pour la faire fonctionner, me donne entière satisfaction, montée sur un tricoptère de 50cm d'envergure. Ne semble pas trop sensible aux vibrations.

Much better than expected

Posted by Unknown on 1st Jan 2016

I own several different "sport" cameras some ridiculously expensive. I like this one the best. Great video quality,easy to mount,easy to use. Durable too has survived a crash that literally destroyed the quad, Runcam still taking great video.

Great Camera

Posted by Timothy REECE on 20th Dec 2015

Great Camera. Arrived within the promised 2 weeks with free shipping. Image quality is awesome and easy to operate. With the supplied mount it mounted to my Blade 350QX without any modification. Looking forward to getting the Runcam 2. Well worth the money.

worth every €

Posted by Rick Voort on 11th Dec 2015

Just loved the fact iT arrived pretty fast and is very carefully rapped in a Runcam Box much better than the mobius. And for a dutch Rc freak the orange colour is just the best ffr. Ps. Runcam is Also great in support if you encounter any issue.

THanks for your service a big thumb up

Excellent cameras

Posted by Phil on 29th Nov 2015

I purchased 9 of these cameras and have attached several to the wings, under the fuselage vertical stabilizer and inside the cockpit of my 1961 Mooney M20 aircraft (real aircraft) and the video is outstanding!

I also use the cameras when not attached to the aircraft as a time-frame security camera to watch the aircraft in my hangar. I can now see every unauthorized person entering and leaving my hangar. If I trigger the 780p to capture a frame once every 2 seconds, I have enough time on a 16GB miniSD card to record nearly two full weeks of surveillance. Nice product.

RUNCAM HD

Posted by Pavel Derkachev on 19th Nov 2015

Product arrived very fast to Kyrgyzstan (2 weeks by free shipping). Love FullHD quality, mounted on mjx x600 and there's no jello.
Can't wait for RunCam2.

Great little camera

Posted by JT on 18th Nov 2015

`Got the camera in.... very easy to operate.... works great as my hatcam..... will be straping it to a quad soon to check it out

good image quality

Posted by h1975 on 17th Nov 2015

nice and light quality camera. Aerodynamic (I use it on a Teksumo wing), great light handling and easy to operate. Wish they would make a 60 fps version of this great little cam!

Great camera, Great service

Posted by Damien Tan on 17th Nov 2015

I have a Runcam HD previously which was awesome thus i order another one as spare, upon receiving the package it was damage on arrival. As such, i wrote a mail with photo to Runcam Support and was told that i will be replaced with a new Camera. (Great Service)

Now as for video quality, i'm a Mobius user previously, and after using Runcam HD, i compare the results and found that Runcam HD's video is smoother and better clarity, i can't get the same quality no matter how i tune on Mobius.

Reason i gave 4 stars instead of 5, is that it seems Runcam case is not has hardy as Mobius. Other then this, it works perfectly. Thumbs Up

Runcam video

Posted by Jim on 10th Nov 2015

I got the runcam for my hat video for shooting un-boxing and RC flight reviews.... it works great.. very easy to use and the main thing is that it works....I received an 808 keychain camera and it was Doa and still waiting on the replacement...If you want a great camera for a good price this is it...

Great camera with amaizing video quality

Posted by Krudy, Ádám on 9th Nov 2015

Very fast shipping!!
The camera arrived in an elegant and strong box.
The Runcam HD is small, lightweight and nice and it has a great video quality.
The online software is very usefull.

Good camera and fast shipping

Posted by Marcelo F. on 8th Nov 2015

I received my RunCam very well packed. It comes with a box with all wires. I'm very happy with the quality and seller. I bought with SD card together and it's good quality as well...Sandisk.

A wonderful movie maker

Posted by Rob W on 4th Nov 2015

This mighty midget has everything I want from a camera. Very small size, but the quality of the video it produces is more like another camera three or four times the price!. With a weight of just 41 grams, can be easily fitted to and flown with very small aircraft or multicopters.

On larger RC planes the light weight and small size is not even noticed, but the quality and clarity of the images taken with this magic little video camera combo really sets it apart from the competition.
With the ability to take HD video in 1080p and 720p as well as excellent still images, this tiny package is mind boggling!

Having purchased two of these little gems, I can say sincerely that I am highly impressed and a very happy owner. I recommend this camera to everyone!

Little problem

Posted by Unknown on 1st Nov 2015

Everything perfect least
the "amcap.exe" application does not work

Lo que esperaba

Posted by Unknown on 28th Oct 2015

I just got and I have not had time to test it properly but only with the quality of the material and the packaging and shipping insurance that does not disappoint me.

USB Cable!

Posted by Daniel on 23rd Oct 2015

I spent an hour with concern when the end was the problem - the USB cable is not right!
PC Connection Follow seconds and disappeared. Then I replaced the cable and the problem disappeared. Provided cable is very thin and low quality. Would have been better to get the product without cable. That's the only reason I did not give 5 stars.
Have not flying with the camera. In testing, I found a good quality for a product at this price.

quite good camera

Posted by Dmitry on 22nd Oct 2015

Quality of video isn't bad, it is only necessary to set up that it was even better .

RunCam HD

Posted by Unknown on 19th Oct 2015

Product arrived well packed with required cords and documentation. Mounted on my 250 multirotor and took it for a test drive,great stills ,beautiful video, great camera feels solid and works well.

RUNCAM HD 2/8

Posted by mast on 6th Oct 2015

ПОРАЖЕН СООТНОШЕИЕМ РАЗМЕРА И КАЧЕСТВА. ОТЛИЧНО!!!

супер товар

Posted by anatolij jakovlev on 2nd Oct 2015

получил очень быстро.качество отличное.я доволен

Greater than expected

Posted by Brian on 30th Sep 2015

This camera is absolutely amazing for the price! I'm having too much fun with the time lapse function.
It comes with all the cables needed to run FPV through it as well, unlike the mobius which you have to buy them as extras. It's obvious that this little camera was designed from the ground up for FPV, but it's good enough for several other great applications too just because of how affordable it is.

Great Camera

Posted by ian on 29th Sep 2015

amazing little camera -great video for the price, this is actually the second one I bought which was for a friend. Using on a small quad's for filming.
Arrived day early and in firm box in good condition.

So good, I purchased another Runcam

Posted by Unknown on 26th Sep 2015

Very pleased with my Runcam HD camera, so I got this second one as a present for my brother.

Nickel!!

Posted by Guillaume on 26th Sep 2015

Très bonne qualité de fabrication et d'image, très simple d'utilisation manque juste un microphone...

Unbeatable quality camera for the money!

Posted by Steven on 24th Sep 2015

After having about 6 Mobius cameras, I thought I would try the new Runcam. I don't what it is, but the texture of the Runcam feels quality. As commented by a friend, "I really like the Lens being in the centre of the camera" opposed to the Mobius being to the side.
I like that it is silver, being bright & shiny makes it so much easier to find when the inevitable happens and you crash a 250 quad and the camera flies off.
The online software took a little getting used to, but then I'm not that great with computers, but once I sussed it,managed to change the settings on the Runcam and all seems to be great now. Not tested it fully yet. But plan to put it on a model soon. Let's hope it's up to the task?

Great hardware, hoping for better software

Posted by Toily on 23rd Sep 2015

I need power-on recording on auto 720px60 but it defaults to 1080, conf should allow for that, also It would be really nice to have the conf file copied directly into the cam

Promessing quality

Posted by Romanas on 20th Sep 2015

After using it for awhile, can tell its good product. So far didnt have big crashes, so can't tell if its good with crash resistance. Usualy mobius can die after 3-5 meters drop.
Really good image quality, good isolated case. Performance is good in evening lights. Good sound quality.

Some samples: http://www.fpvracer.lt/map/?id=11901#video-11901
https://www.youtube.com/watch?v=LBSkwxm-ZLM
https://www.youtube.com/watch?v=a-jGVN5v_l4

Things to fix: Longer PowerOn button press (needs to be adjustable from config tool), better light switching White balance (sun -> dark places)., Bigger battery.


Ease of use

Posted by Unknown on 16th Sep 2015

The Runcam HD was easy to use. A smartphone application for it is a plus. You can never go wrong with it.

a quality product for awesome value

Posted by tom allsopp on 12th Sep 2015

So far I'm finding the runcam is delivering more than I expected for the price and it's doing it with no fuss, minimal setup and allowed me to just go get on with It.

Excellent once we got it working

Posted by Unknown on 10th Sep 2015

We had some problems with it when we first used it: it wouldn't power on. Turns out we forgot to format the memory card, and so it had to be plugged into the computer, then manually download the various bin files from the web app to the camera. It powered up fine after that, although the main led flickers. We had contacted RunCam (via the email form on the main website) when we were having trouble with the cam, but they never replied. I wish they would make it easier to navigate the site to find the support contact info!
It does take 3 full hours to charge, but the battery life is excellent.
You can't beat RunCam HD's specs for the price. Even the Mobius camera is inferior!
The cam was wayyy heavier than expected. feels like half a roll of quarters, but isn't really that heavy.
Shipping was very fast. 3 days!

Bon rapport qualité/prix

Posted by Fabrice on 9th Sep 2015

Je n'ais pas encore eu l'occasion de tester de manière approfondie la caméra mais les quelques fois où j'ai filmé depuis mon quad fpv m'ont donné entière satisfaction. Les vidéos sont de bonne qualité et j'apprécie la simplicité d'utilisation. A recommander.

Good value

Posted by Julian on 30th Aug 2015

First impressions are that this little camera performs extremely well. I have only tested it on the ground so far, but it seems to cope very well with difficult lighting conditions and the picture quality is excellent. The next test will be in a Sky Eye powered glider. The manual does not make it clear how to put it into playback mode but apart from that it is quite helpful. Overall - great value for money.

Great for it's price

Posted by Volodymyr on 26th Aug 2015

Получил камеру очень быстро (Украина), упаковка, комплектация, инструкция - все превосходно. Камера работает отлично. Единственный косяк - похоже дефект на линзе, из-за которого на видео есть темное пятно правее центра. Уверен, продавец заменил бы его без вопросов, но не охота возиться с возвратом и пересылками, тем более что есть в наличии другая оптика.
https://youtu.be/lf4ZjIyHGCs

I got a camera very quickly (Ukraine), packaging, equipment, instruction - all excellent. The camera works perfectly. The only thing is a small defect on the lens, because of which there is a dark spot on the video to the right of center. I am sure that the seller would replace him without question, but has no desire to mess with return shipment. Also, i have other good optics.
https://youtu.be/lf4ZjIyHGCs


Love it.

Posted by R.M. on 25th Aug 2015

I'm new to RC. And this is my first FPV Racer quad. Its assembled from cheap parts but then it comes to a camera i choose the best. RunCam.
P.S. you have to improve the cradle. The zip ties trays are very weak. Broke them on not a big crash in the high grass (side hit).
https://youtu.be/7nEKBRM-gYs

the only cameras i use

Posted by Unknown on 25th Aug 2015

on all omy my quads
https://www.youtube.com/watch?v=7sZAuIWn2tw

https://www.facebook.com/photo.php?fbid=10206389058141972&set=a.2302716884067.129647.1133553380&type=1&theater

Top Camera für RC Modelle

Posted by Cetax on 20th Aug 2015

Ich habe die Kamera für eine FPV Rennen bekommen und Sie gestestet. Und muss sagen, das die RunCam HD richtig tolle Aufnahmen in HD macht. Ich kann die wirklich nur empfehlen!
HD Aufnahme mit 30 FPS oder mit 60FPS, echt klasse !

Ich werde mir auf jedenfall noch eine zweite RunCam HD kaufen für meinen Alien.
z.Zt. ist die RunCam HD auf meinem Tartot250 und macht Aufnahmen ohne Jello. Echt Top

Great quality!

Posted by Jimbo_wa on 20th Aug 2015

Fantastic image in good light and no interference to Tx/Rx!

Only downside is the mounting caddy is very tight, but at least it won't fall out - probably a good idea to get some spare lens caps too ;)

Nice low price cam

Posted by Laserlock on 19th Aug 2015

Really low priced cam, fpv out cable is included (but the usb-connector is too long in my opinion, angled would be better in my opinion)

One problem I have is out of sync audio/video, not a big deal, if you just use the video, but maybe annoying wenn you want to use it.

All in all, good bang for your buck.

Beautiful FPV!!!

Posted by Eric on 18th Aug 2015

After using nearly 50 different cameras during testing and prototyping, nothing fit our needs better then the RunCam. The features that took the win over the Mobius include the fact that the lens is centered, and the other biggy was that the FPV cable was included in the package at no extra charge. Full 1080p, and lens relocation made this King for us.
Showing reviews 1-50 of 95 | Next