Product Description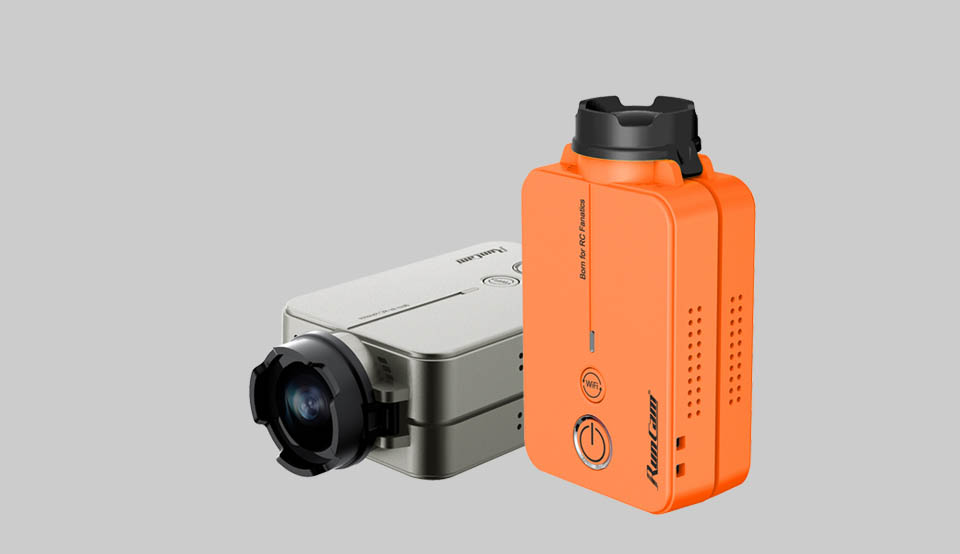 RunCam 2
Born for RC Fanatics

Lens Hood Specially Designed for FPV
The replaceable design is beautiful and
exquisite, better protects the lens against
stray light and glare.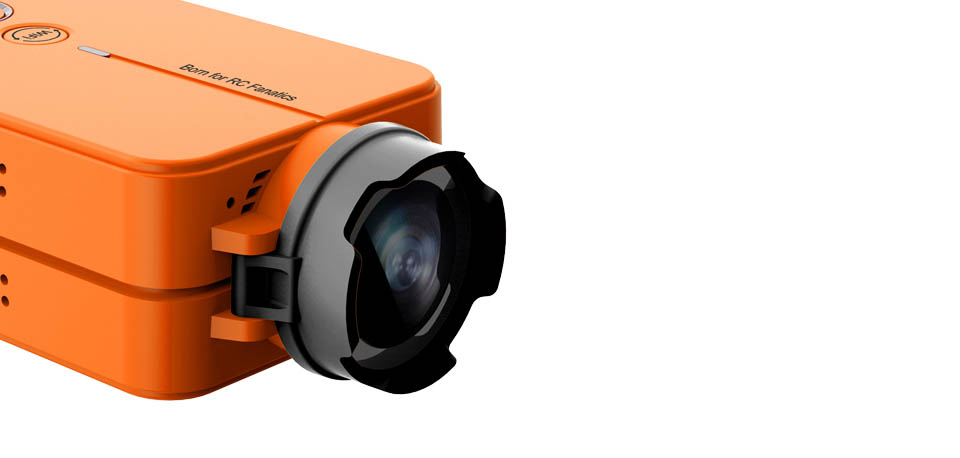 Better Appearance
More Advanced Technology
GE PC/ABS blend thermoplastic.
Matte surface.
Wear-proof UV coating.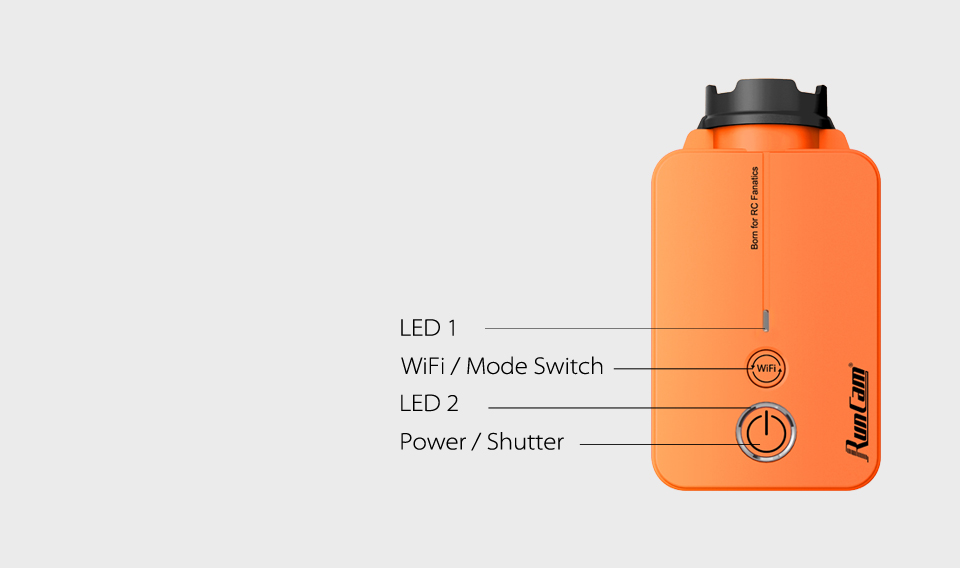 Better Button Structure
New Touch Feeling
Ergonomic button design
LED light ring: easy to read from any angle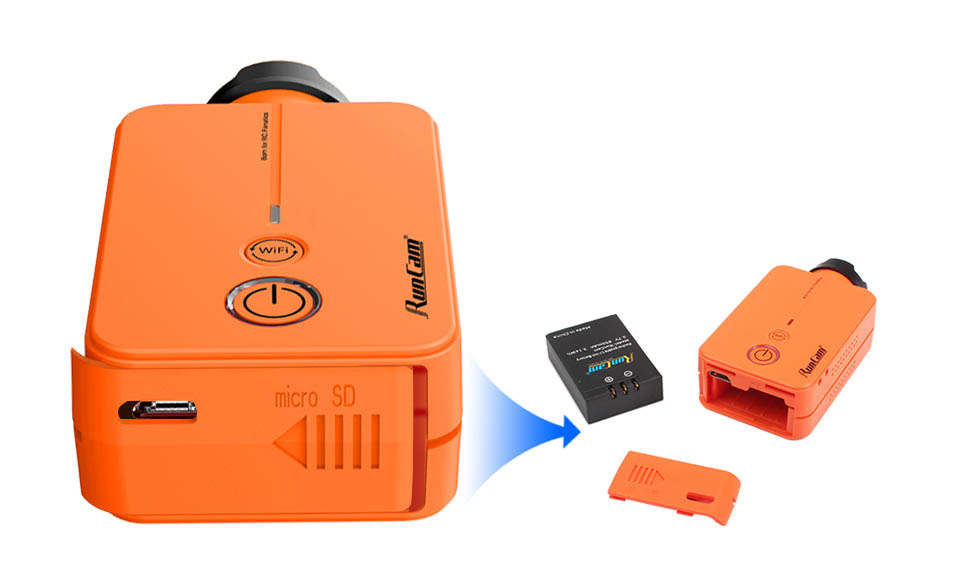 The bottom door keeps the micro
SD card from popping out in crash.
850mAh Replaceable Battery
90 minutes under 1080p 30fps
60 minutes under 1080p 60fps
The lightest FPV HD camera
50g (with battery) / 35g (without battery)
5V-17V wide input voltage / Charged through USB port
Power supply: powerbank, phone charger or 2-4S batteries

Anti-interference PCB can effectively reduce RF interference.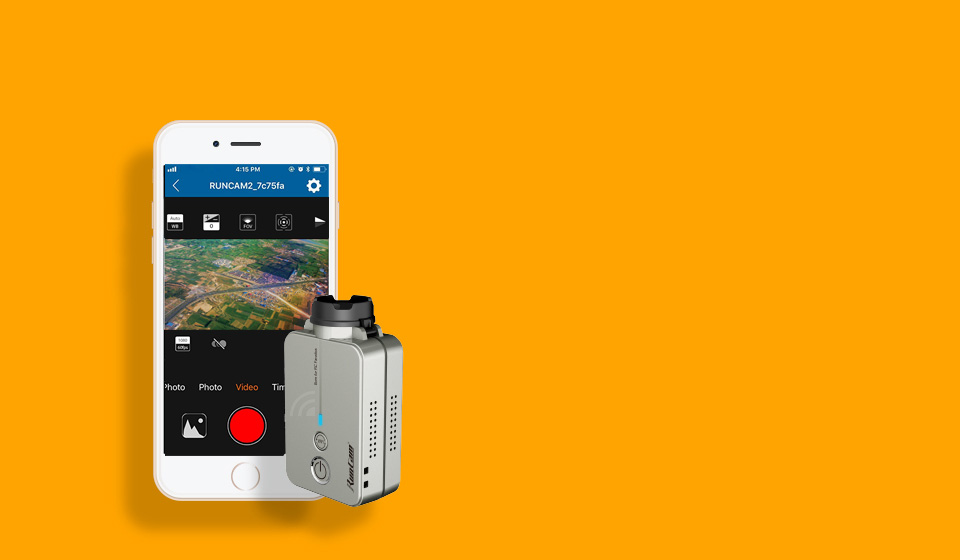 Package
1 X Camera (1 Battery included)

1 X 1/4 Tripod adapter

1 X Mount

1 X USB cable

1 X Servo to RCA adapter cable

1 X TV-out and power cable

2 X Velcro and ties

1 X Tether

1 X Manual
Parameter Settings
| | |
| --- | --- |
| Angle of Field | FOV 120° |
| Sensor Resolution | 4 megapixels |
| Video Resolution | 1920*1440@30fps / 1080p@60fps / 720p@120fps |
| Video Files | MOV |
| TV Output | NTSC / PAL |
| Interface | Micro USB |
| Max Micro SD Card Supported | 64G(need class 6 or above) |
| Image Flip(Manual/Auto) | 180° Rotation |
| Dimension | 66mm(L) * 38mm(W) * 21mm(H) |
| Battery Capacity | 850 mAh |
| USB Power Input | DC 5V-17V |
| Working Current | < 600 mA |
| Weight | 49g(with battery) / 35g(without battery) |
Package
1 X RunCam 2 (One Battery included)
1 X Mount
1 X 1/4 Tripod adapter
2 X Velcro and ties
1 X USB cable
1 X Servo to RCA adapter cable
1 X TV-out and power cable
1 X Tether
1 X Manual
download

User Manual
Product Reviews
Write Review
Previous | Showing reviews 11-20 of 74 | Next
parfait

Posted by laurent huchet on 17th Nov 2016

Cette micro caméra est parfaite, et depuis la mise à jour de l'application tous les paramètres sont accessibles.
À recommander.

RunCam 2-Great Camera!

Posted by Dan Davis aka 'Professor' on 23rd Oct 2016

The video quality is excellent! I connect to my iPad using the app and it works flawlessly.

Great product

Posted by Tommy Georgiopoulos on 25th Sep 2016

I'm a professional Competitive Shooter and wanted a hat cam that can record a first person view of my shooting. I took it to the range for some test video and the quality of the video was amazing. The only small problem I had was the audio could be a bit better. I also like that there is an app on my phone that can change all the settings and link it to my camera.

That's right, one of the best.

Posted by Unknown on 20th Sep 2016

Love it. those every thing, it is suppose to do.-
Delivery very fast, service No 1.-


One of the best

Posted by Revs on 14th Sep 2016

This is a great cam. The app and functions works well. The image quality is very good and there isn't too much compression, though less is would always be welcome. Quality suffers quite a bit in low light though. The audio is very poor too; very muffled.
The casing is tough and the lens protector does it's job well. Battery life is reasonable and the lipo is easy to swap.
This is a perfect cam for small racing quads where weight is a major factor.

Great camera

Posted by James Malone on 17th Aug 2016

This is my second RunCam 2. The first one got destroyed in a major high speed collision with a pile of bricks when my plane nosed in from 70 feet. This camera is great for FPV and videos. Now that I have the remote cable I can also take photos while flying. The image I get on my 5 inch monitor with 800x480 resolution is fantastic. I highly recommend this camera.
I would also like to thank RunCam for their support and great customer service team. Best company I have ever dealt with.

RunCam

Posted by Lyle Hunt on 16th Aug 2016

Excellent camera, very stable, easy to set up before and in field. Well built.

runcam 2

Posted by mike on 11th Aug 2016

great product pleased with the quality for such a small device

Exellent camera!

Posted by Vitalii Filipenko on 30th Jul 2016

Great camera for FPV. High-quality, light and narrow, for a reasonable price.

Great Camera and Service that went above and beyond my expectations.

Posted by Shervin Saffari on 15th Jun 2016

I ordered the Runcam 2 when they were taking pre-orders. My camera recorded and functioned fine, but it ran hot and the battery would get consumed quickly. I thought this was normal. Months later I decided to use it for fpv and noticed I do not get any video out. After posted on the RC Groups thread I was told by customer service to reach them.
I did and they quickly determined i have a faulty unit and sent me a replacement Runcam 2. I was scared at first since dealing with overseas companies and service can be a pain... But when runcam said a new camera is on its way.. I was flabbergasted and delighted! Lucky for me their USA warehouse is less than a mile from my apartment! So I got the camera within 24 hours. It outputs video to my fpv transmitter perfectly and runs cool to the touch with better battery life. I couldn't ask for a better customer service experience. I highly recommend their quality products and friendly service. I will happily continue to buy runcam products.