Product Description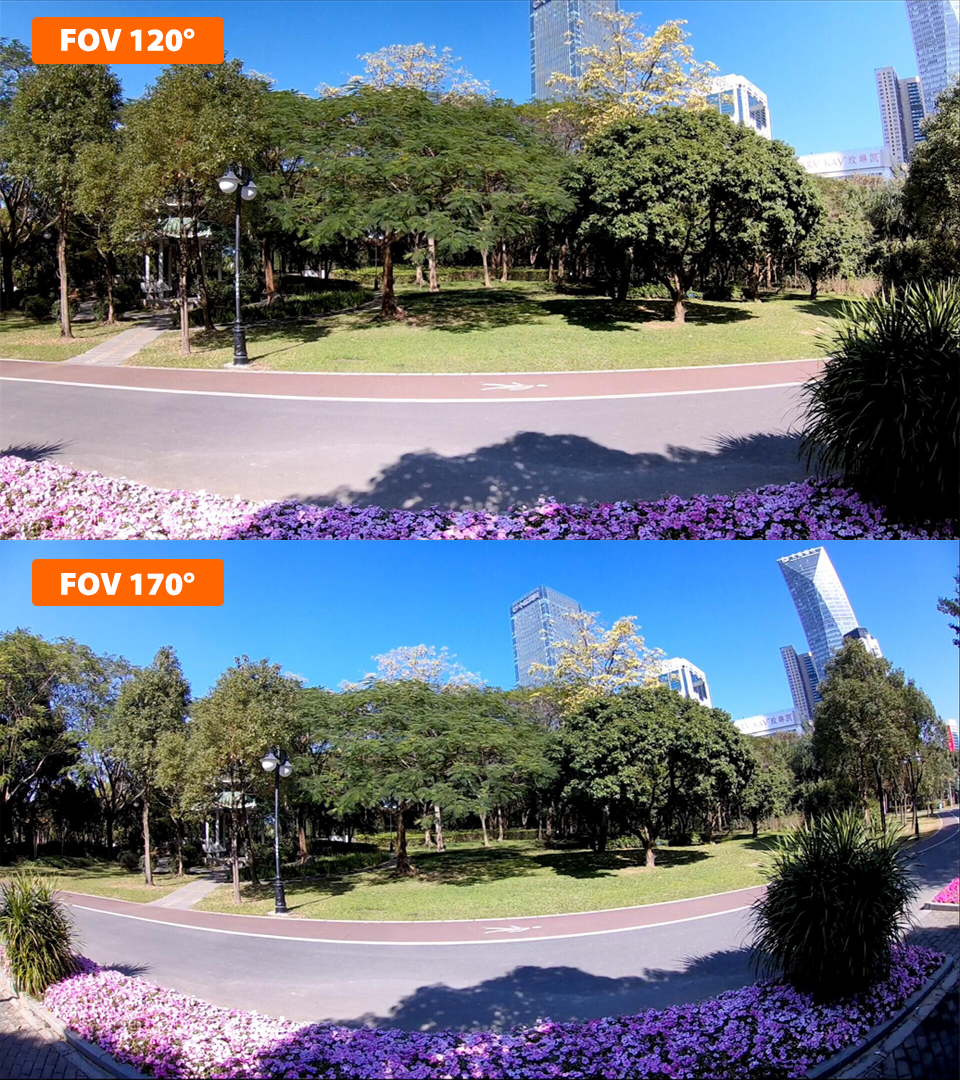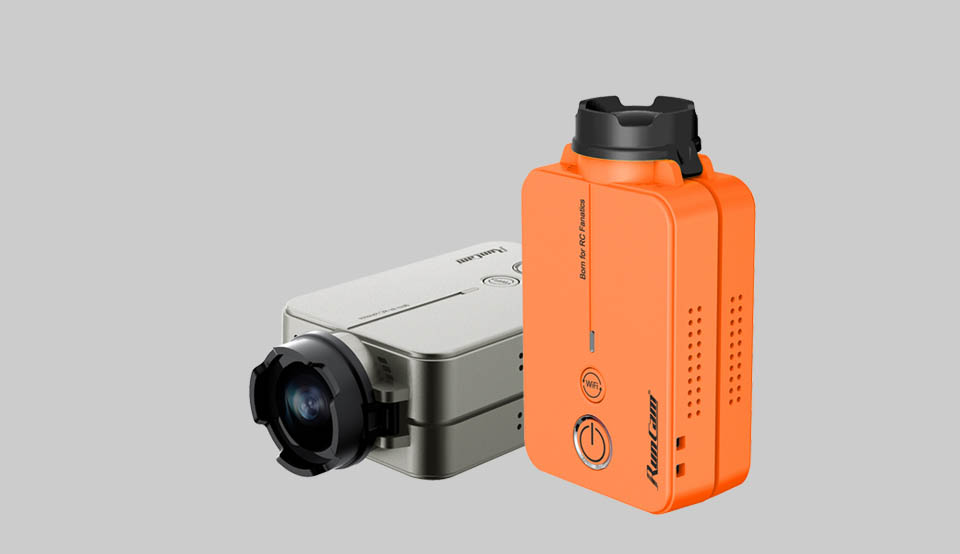 RunCam 2
Born for RC Fanatics

Lens Hood Specially Designed for FPV
The replaceable design is beautiful and
exquisite, better protects the lens against
stray light and glare.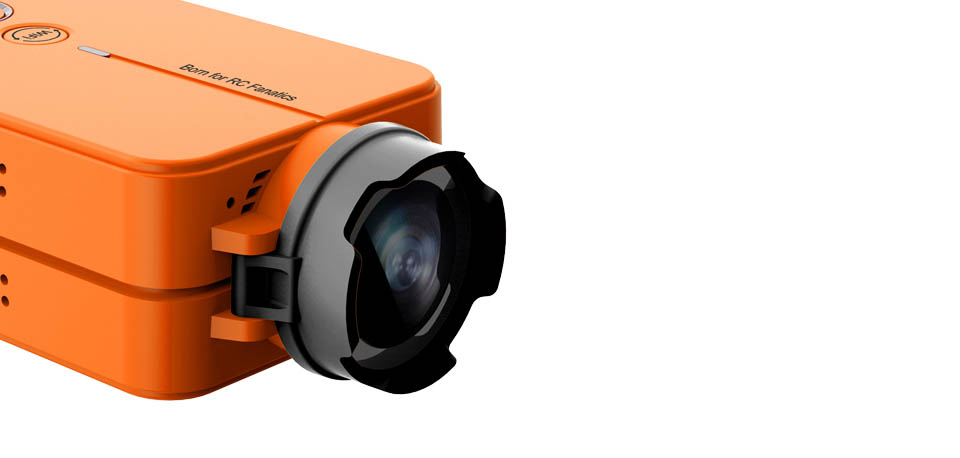 Better Appearance
More Advanced Technology
GE PC/ABS blend thermoplastic.
Matte surface.
Wear-proof UV coating.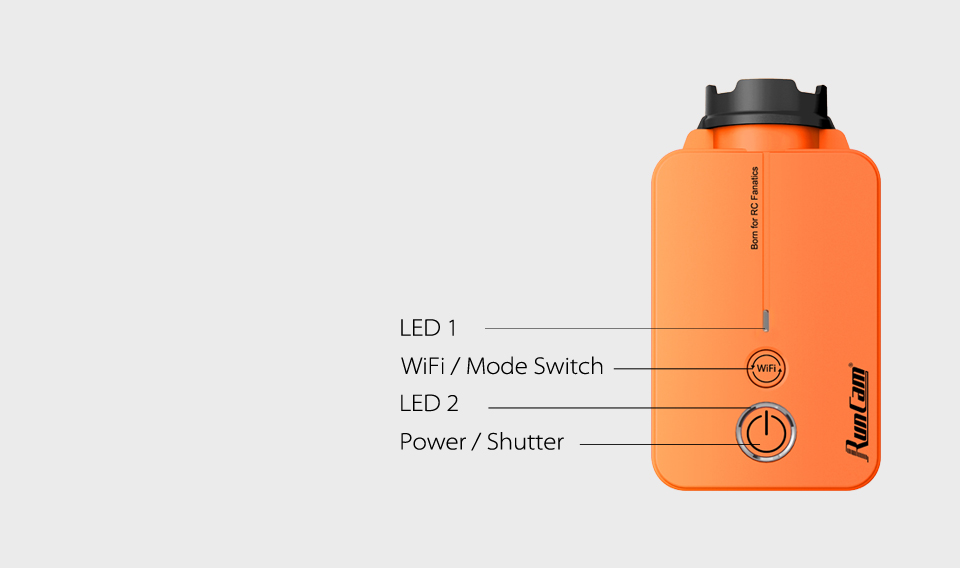 Better Button Structure
New Touch Feeling
Ergonomic button design
LED light ring: easy to read from any angle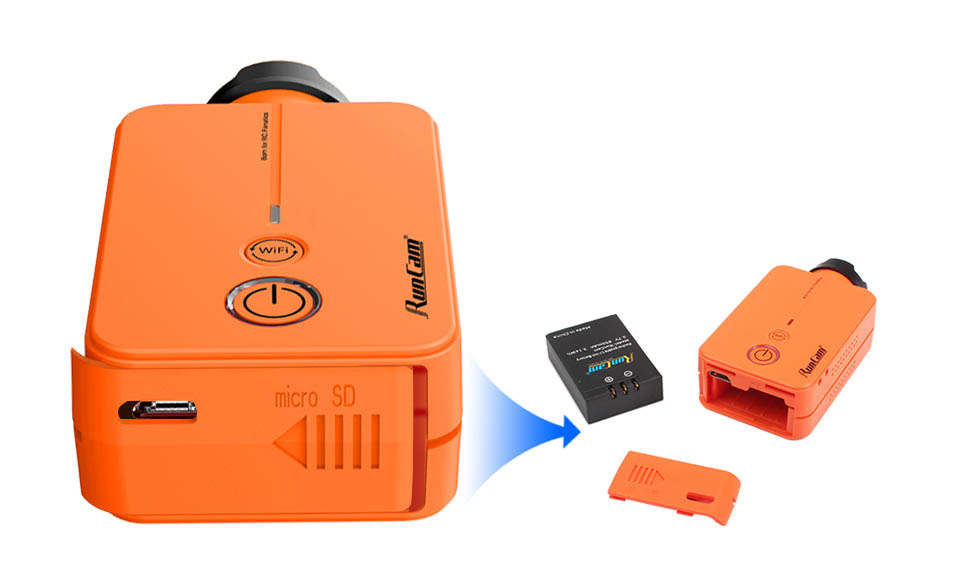 The bottom door keeps the micro
SD card from popping out in crash.
850mAh Replaceable Battery
90 minutes under 1080p 30fps
60 minutes under 1080p 60fps
The lightest FPV HD camera
50g (with battery) / 35g (without battery)
5V-17V wide input voltage / Charged through USB port
Power supply: powerbank, phone charger or 2-4S batteries

Anti-interference PCB can effectively reduce RF interference.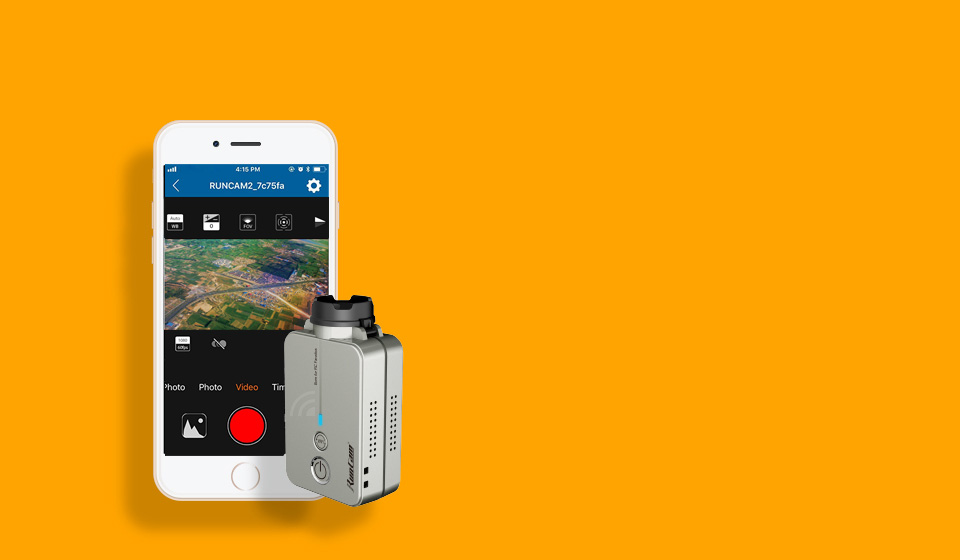 Package
1 X Camera (1 Battery included)

1 X 1/4 Tripod adapter

1 X Mount

1 X USB cable

1 X Servo to RCA adapter cable

1 X TV-out and power cable

2 X Velcro and ties

1 X Tether

1 X Manual
Parameter Settings
| | |
| --- | --- |
| Angle of Field | FOV 120° |
| Sensor Resolution | 4 megapixels |
| Video Resolution | 1920*1440@30fps / 1080p@60fps / 720p@120fps |
| Video Files | MOV |
| TV Output | NTSC / PAL |
| Interface | Micro USB |
| Max Micro SD Card Supported | 64G(need class 6 or above) |
| Image Flip(Manual/Auto) | 180° Rotation |
| Dimension | 66mm(L) * 38mm(W) * 21mm(H) |
| Battery Capacity | 850 mAh |
| USB Power Input | DC 5V-17V |
| Working Current | < 600 mA |
| Weight | 49g(with battery) / 35g(without battery) |
Package
1 X RunCam 2 (One Battery included)
1 X Mount
1 X 1/4 Tripod adapter
2 X Velcro and ties
1 X USB cable
1 X Servo to RCA adapter cable
1 X TV-out and power cable
1 X Tether
1 X Manual
download

User Manual
Product Reviews
Write Review
Showing reviews 1-10 of 74 | Next
Best Value

Posted by Padraig on 10th Jan 2017

By far this is the best value for a small HD action camera. GoPro is still the Cadillac but you pay a price for it. I know I feel better knowing I only paid $80 for my camera since the tree doesn't care how much I paid for it.

Value for money

Posted by Knut Neumann on 7th Jan 2017

Just having the option pairing the cam with ones phone makes it worth while having.
What I would like to see is a lens cap, which would protect the lens better when the camera is not in use,
like on my Mobius.
If I compare the 2 cameras, I do think this is the better one. Picture quality is definitely better.
Having access to the battery is also a great improvement.
Overall 4 out of 5.

Superbe caméra HD

Posted by Barry on 29th Dec 2016

Franchement caméra au top, la qualité d'image est vraiment là. Il s'agit ici d'un must have pour mettre sur mes multirotors et ailes volantes.
Pourquoi 4 étoiles uniquement ? Deux points négatifs: le son qui est vraiment pas terrible et l'ouverture de la lentille qui gagnerait à être un poil plus grande.

Best HD camera to use on my FPV model (quad and wing). Two little problem: not a good micro and lens angle sould be a little wider.

The new RunCam 2

Posted by Unknown on 27th Dec 2016

I have to say I love this camera! No more gopro for me! The video quality is just as appealing. However the RunCam 2 is a smaller and lighter package! Love the fact you can use it on smaller aircraft without the battery to save weight! ;)
With the new RunCam 2 I don't see any reason to use the blocky and bulky competition.
Great Job RunCam!!!

livraison

Posted by BeeFree on 26th Dec 2016

ressue en France 2 semaine après commande le coli est en très bonne état bien emballé est complet très satisfais

Great RC camera

Posted by Blaine Zaid on 19th Dec 2016

I just switched to this from the old Mobius w Lens A (regular). I'm very impressed with the bright & sharp video it produces. The design is good and it works very well with the cell phone app for doing the settings and making sure the view is right before you take off. Only limitation I've seen is lower video quality in very dim light (did one in a restaurant), but that is true of all small cameras. For RC it's perfect ! I did my first flight with FOV set at medium, and the scenes were excellent with little fisheye effect.

great picture quality

Posted by JAMES BEARDSLEY on 19th Dec 2016

Although it's rather large, the picture quality is great. At first i thought the WiFi would have a longer range, but to at least be able to change settongs on the fly was great.

I had the first version, but after one crash on cement, the lens was damaged. I hope these hoods will prevent that.

Runcam 2- awesome

Posted by William Rendall on 10th Dec 2016

This is a great camera. My second (after losing one when my quad disappeared in the bush).
The only critique or rather suggested addition I have is I wish there was a clip on holder to enable an FPV TX to be attached for FPV ops.

GoPro Killer...lol

Posted by Jerry Allaire on 8th Dec 2016

Why pay over 500 $ for gopro when you can buy this amazing cam for 80$ and does more you can see real time on phone adjust all setting on your phone love it. video quality is amazing nice and small and centered not like gopro. Put on drone right in middlle...lol...and the support is awesome would recommend to everyone

Awesome recorder

Posted by Christopher Whitmer on 29th Nov 2016

This camera takes awesome video. Much more simple to use than the GoPro. And the app. For the android is unbeatable... Thank's RunCam!!!!!
Showing reviews 1-10 of 74 | Next