Product Description
RunCam 650TVL Mini Metal Casing FPV camera
SKY
A new released aluminum Mini Camera dedicates to FPV players. With the improvement of picture quality, the size and anti-dazzling function are highly optimized elaborately for FPV use.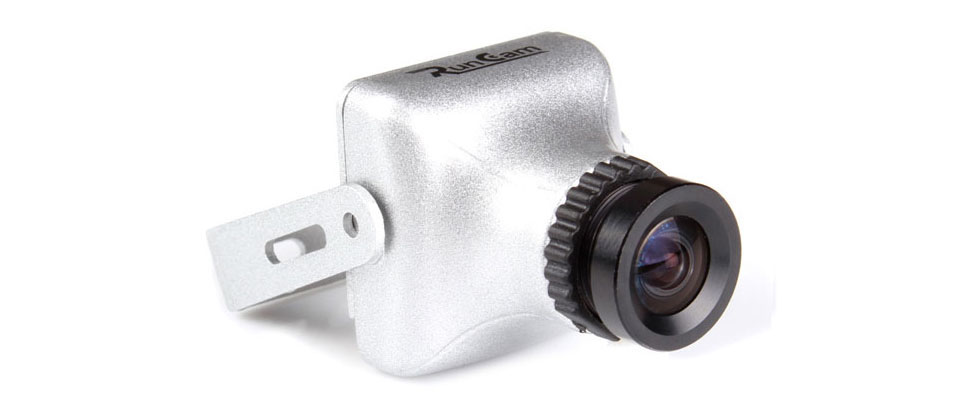 Housing

Only 18g

Clearer

Sony CCD

650TVL

CVBS

5D-OSD

IR filter
More Colorful
It adopts SONY CCD &Nextchip 2090 DSP, SamSung and PANASONIC's top resistor component and tantalum capacitor.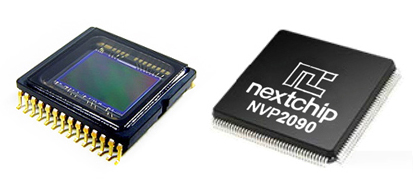 Elaborate optimization program, it is specialized in dealing with strong light and has more vivid image show than other FPV cameras.
26*26mm Mini size and arc-shaped edge helps it largely reduce the wind drag and stable the model ship airplane. With these features, Sky is suitable for various type of plane.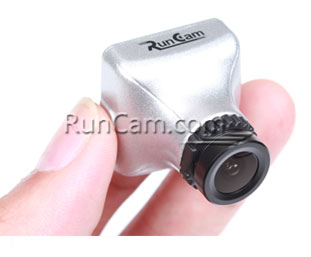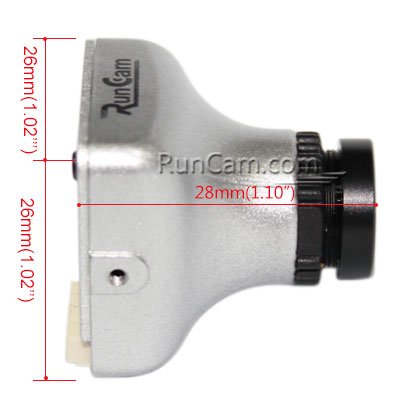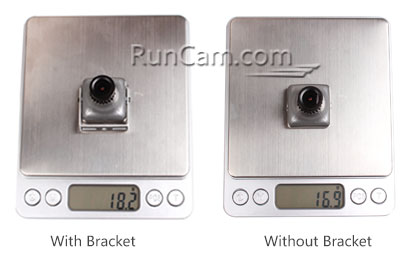 New aluminum design case makes the camera lighter and more exquisite.
Weight only 18.2g with case.
The small size and lighter weight make SKY more flexible to model planes or drones in ​​various size.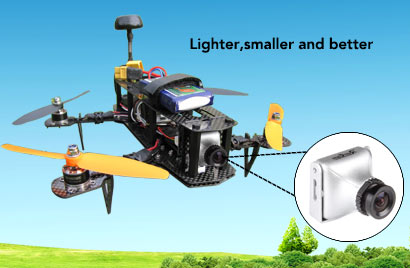 The comparision between the OSD display of SKY and

PZ0420(H)
Please note: The current version of RunCam SKY is not completely compatible with MAX7456 chip OSD ( Blurred OSD display or flickering)

---
Different Lens Size for Selection!
Like to have different viewing angles and distances? There are 2.8mm and 3.6mm (default one) for your optional!

FPV wiring diagram and recommended equipment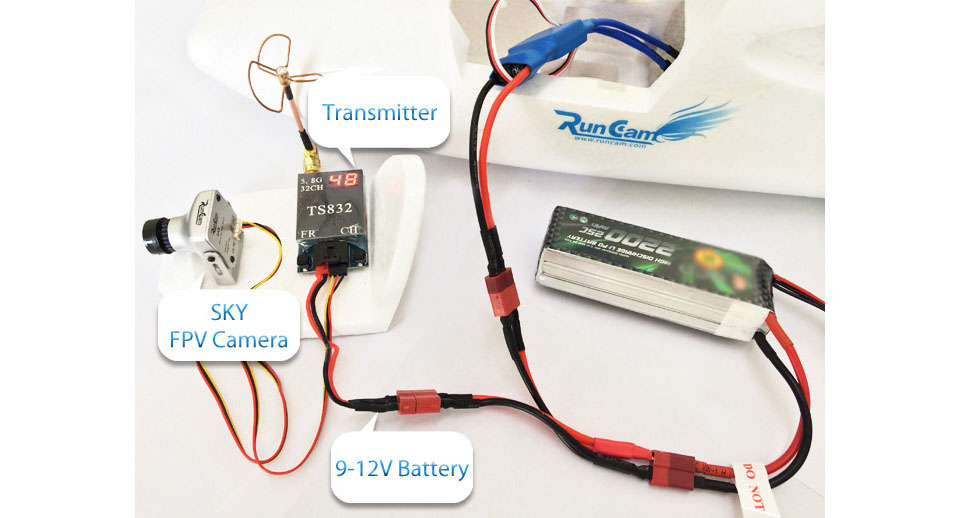 | | |
| --- | --- |
| Image Sensor | 1/3 SONY SUPER HAD II CCD |
| Horizontal Resolution | 650TVL |
| Effective Pixel | PAL:753(H) x 582(V), NTSC:768(H) x 494(V) |
| Signal System | PAL/NTSC |
| Synchronization | Internal |
| Auto White Balance | Manual/Auto/Auto tracking |
| S/N Ratio | >60dB(AGC OFF) |
| Electronic Shutter Speed | PAL:1/50-1/100,000sec; NTSC:1/60-1/100, 000 |
| Auto Gain Control | off/low/mid/high optional |
| Back light compensation (BLC) | off /BLC/ anti-exposure |
| Motion Detection (MD) | On/Off (multi-level sensitivity) |
| Min. Illumination | 0.01Lux/1.2F |
| Shading Area | 8 |
| Video Output | 1.0Vp-p 75 ohm BNC output |
| Power | 9-12V DC |
| Negative/ positive | Negative/ positive optional |
| Edge light compensation | Yes |
| Display Mode | LED monitor/ CRT monitor |
| Synchronize IR turn on and color turn to B&W | Yes (optional) |
| IR image optimize | Anti exposure of the object in the middle |
| DNR | 2DNR |
| Day/ Night Switch | Auto/Color/B&W/Outside control (position start and end controllable) |
| Day/ Night time switch | 1 to 30 Switchable time |
| OSD | English/ Chinese/ Japanese/ German/ French/ Russian/ Portuguese/ Spanish |
| White dot repair (DPC) | Yes |
| Image adjust | Yes |
| Function Control | OSD |
| Dimensions | 26mm x 26mm |
| Operation Temp. | –10C to +50C |
| Operation Environ. | 10% to 90% |
Package
1 X Camera
1 X Cable
1 X FPV Cable
1 X Metal holder
1 X Manual
Tips:
The camera is adapted with the sense infrared filter.
Download:

User Manual
---
Product Reviews
Write Review
A perfect FPV camera

Posted by Andrey Mironov on 28th Apr 2016

Fits perfectly into my Armattan F1-5 Acro POD and the RCExplorer's Mini Tricopter. Crisp image, low latency and awesome light-sensitivity.
The only thing I don't like is 12V input, would get the Swift next time.

runcam 650tvl

Posted by matt on 6th Apr 2016

Hello all I want to give you my opinion on runcam 650TVL with this camera my glasses Fatshark relive v2 I am very happy I ordered my camera is on official website on March 17 received on 4 April and more than you we just adjust his camera is really great we can even change languages ​​to really understand hat I think the last purchase for my second machine :)

Can't beat this camera!

Posted by Bill on 20th Nov 2015

Strong case that's a little heavier than plastic, but worth the weight. This means you can tighten the bracket screws without stripping it as easily as the plastic case . Beautiful picture for such an inexpensive camera. Looks great with stock settings, but I haven't played with the OSD yet. Buy this camera.

The Best cam I ever used

Posted by Watchmaker Lam on 8th Oct 2015

the cam itself Better then any others.

I like the shell, well protected, but just the hanger too soft, but I need to use a 3D printed hanger anyways, so its fine for me.

Great fpv camera

Posted by Ulf Åkesson on 9th Aug 2015

This camera is perfect for fpv with great picture, On Screen Display, aluminium case, low price and it's small size. I love it!

Fantastic little eye in the sky

Posted by Unknown on 7th Aug 2015

Great little camera and I mean little. It is small and even with the casing its tiny and light. The mounting bracket is a great feature that makes it easy to mount and angle, just make sure it is protected. The video quality looks good and love the idea that it is easy to change the settings with the supplied cable.

Well worth the money spent.

Runcam sky 650tvl 3.6 lens

Posted by Unknown on 3rd Jul 2015

For 30$ you can't beat it! Does well in light, osd is spot on! It's small it's light it's a win win win.

Great FPV Cam for my Iris

Posted by Joe on 1st Jul 2015

Not heavy. Hero4, Gimbal & 5100MAh is heavy enough. Good degree of View. Easy mounting. (I took off the bracket, saved 1g) I like FPV and I recommend this camera for the price. You'll like it too.

STUNNING

Posted by Paul on 13th Apr 2015

Fantastic little camera. OSD programming is superb.
Picture quality and adjustment to light is really good.
Put some blue thread lock on side screws and she is rock solid.
very happy with this purchase.