Product Description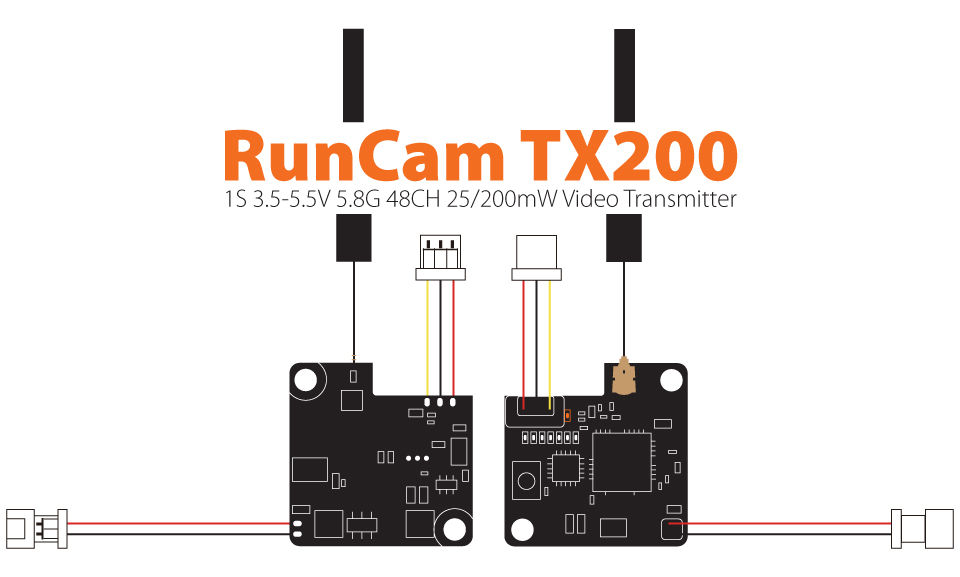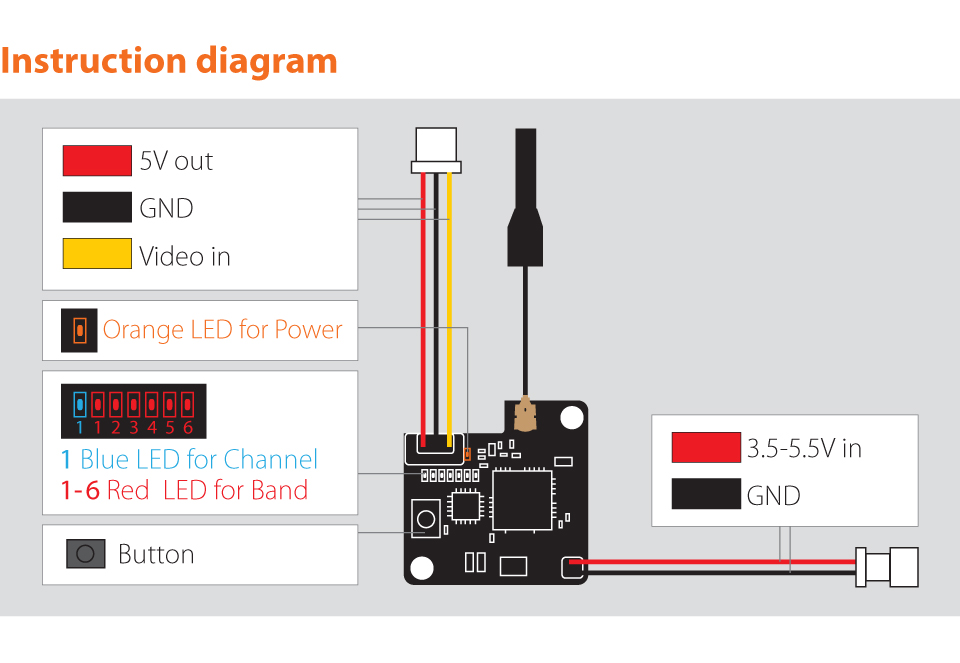 Frequency Table
Lock
200mW
25mW
| | | | | | | | | |
| --- | --- | --- | --- | --- | --- | --- | --- | --- |
| Channel | CH1 | CH2 | CH3 | CH4 | CH5 | CH6 | CH7 | CH8 |
| 1 Band A | 5865 | 5845 | 5825 | 5805 | 5785 | 5765 | 5745 | 5725 |
| 2 Band B | 5733 | 5752 | 5771 | 5790 | 5809 | 5828 | 5847 | 5866 |
| 3 Band E | 5705 | 5685 | 5665 | 5645 | 5885 | 5905 | 5925 | 5945 |
| 4 Airwave | 5740 | 5760 | 5780 | 5800 | 5820 | 5840 | 5860 | 5880 |
| 5 Race Band | 5658 | 5695 | 5732 | 5769 | 5806 | 5843 | 5880 | 5917 |
| 6 Low Race | 5362 | 5399 | 5436 | 5473 | 5510 | 5547 | 5584 | 5621 |
Parameter
| | |
| --- | --- |
| Model | RunCam TX200 |
| Frequency Channel | 5.8G 48CH |
| Output Power | 25mW / 200mW |
| Working Current | 5V@150~400mA |
| Voltage out | 5V@max 250mA |
| Voltage in | 1S 3.5-5.5V |
| Video Input Impedance | 75 Ohm |
| Antenna | U.FL 5.8G 2dB Omni antenna |
| Weight | 2.5g (with antenna) |
| PCB Size | 19mm*19mm |
Package
1 X TX200
1 X Set of screws
Download

User Manual
Product Reviews
Write Review
runcam TX200 transmitter

Posted by Andy crashpilot on 6th Jan 2018

Very nice and small to fit in most models light weight and connects to runcam sparrow real easy. I am using it on a new quad build and using a 1s lipo and have got 15mins of viewing time on one cell lipo so far. On 25mw not tried higher rates yet but for the price the quality is good but I would of liked a more a secure connection on antenna. It would be nice if they can make one for the nano too however very happy with my purchase thank you.

Simple and good

Posted by Unknown on 31st Dec 2017

Quick and easy setup, compact size.