Removable battery for RunCam 2/RunCam 3S/Scope Cam/Scope Cam Lite/Scope Cam 4K(Plastic)
Removable battery for RunCam 2/RunCam 3S/Scope Cam/Scope Cam Lite/Scope Cam 4K(Plastic)
Get a $5 cash coupon by joinning our Facebook group.
Product Description
Features:
850mAh Replaceable Battery
90 minutes under 1080p 30fps
60 minutes under 1080p 60fps
Net Weight: 14g
Size: 10mm x 25mm x 36mm
Suitable for RUNCAM2
Suitable Cameras:
RunCam 2

RunCam 3S

RunCam 2 4K

Scope Cam

Scope Cam Lite

Scope Cam 4K (plastic version)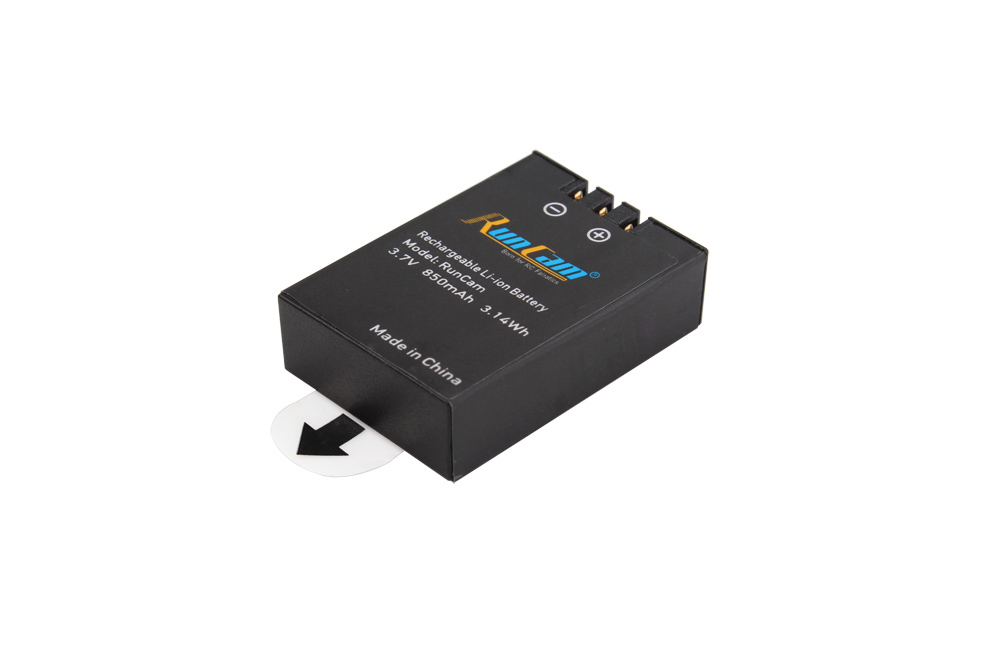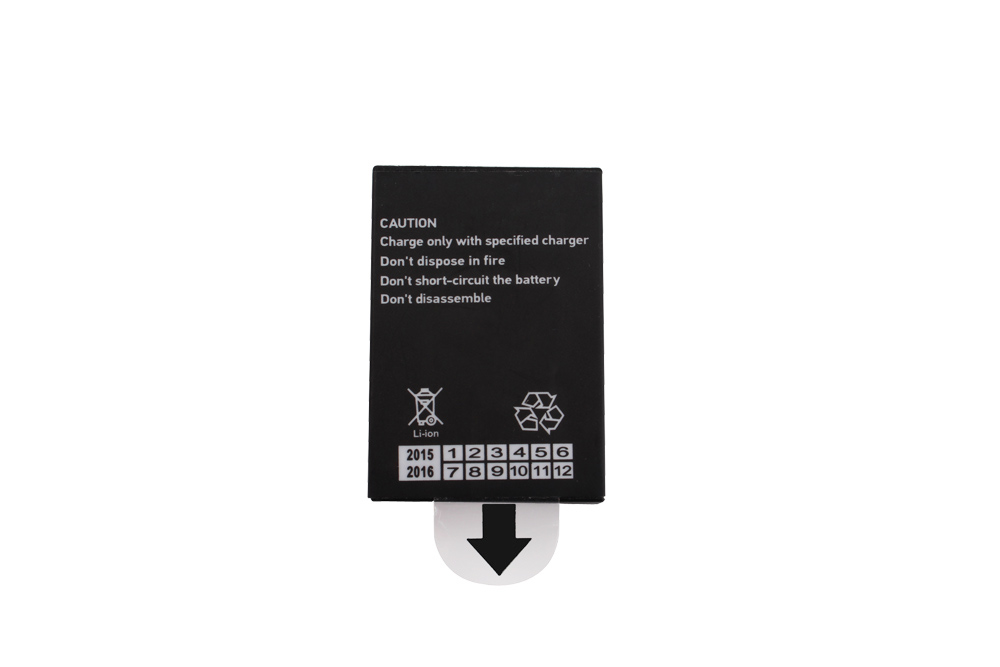 Package
1 X 850mah Rechargeable Li-Ion Battery
Product Reviews
Write Review
Small yet efficient

Posted by Clito on 21st Nov 2022

Since I started buying from Runcam I didn't even considered the possibility of looking other brands. I say that because of the top quality of the products and the incredible customer support they offer,

You can't go wrong by buying with them.

Battery for RunCam 2

Posted by Kaj Sorensen on 15th Dec 2021

The battery works Ok. It was bought due to purchase of a doubble charger

RunCam Battery

Posted by Wolfgang Reiner on 30th Jul 2021

Both the battery supplied with the camera, and a spare battery ordered, required electrical contact adjustment, for proper connection and function. This was very easy to do.

850mah Battery

Posted by Walt on 25th Mar 2021

Excellent--works as advertised

Well made, but could be better.

Posted by Marc Ariss on 28th Jan 2021

Overall the battery is very well made and convenient, however I have noticed a tendency to puff prematurely.

Good enough

Posted by Linas on 28th Nov 2020

Bought 2 extra batteries for RunCam Scope Cam 4K, as shooting constantly drains one in approx 1 hour. Expected the battery to last longer, thus a bit of dissapoitment here (4/5 stars).
It's light weight, combined with light weight of camera, does not feel at all on the RIF. Though, when purchasing extra batteries for your camera, it would be nice to get a suggestion from the site to get a charger as well (technical issue), regardless you can charge the batteries with the camera.

Good replacement

Posted by Pete on 7th May 2018

Not a lot you can say, it's replacement battery for the Runcam 2. Was a excact repeacement so it fit well. Charged it and my Runcaam 2 was as good as new again. Because the Runcm 2 battery is removable this can also be used a backup or extra battery for the Runcam 2

Working like charm

Posted by Rizman on 8th Sep 2017

Purchased this battery to replace exisiting one that i detect corrupted. This replacement battery work like it should.

Removable batties pro's and con's

Posted by Colvyn Bell on 19th Aug 2017

The RunCam 2 need design with removable battery is a step in the right direction, this does allow me to change the battery on the go. This means no more having to carry an external battery I can carry three or four smaller battles instead, the only con I have hound is I cannot seem to change the battery with glove on.

best RunCam2 battery

Posted by Codrin Buzdugan on 28th Jul 2017

This battery work very good. I appreciate very short time for delivery. I am extremly satisfied about this product.
Only negative aspect is that I can't find some docking for charging this batteries. Only way to charge its is just in RunCam2, so, I can't use the device while batteries is charging. I must put all batteries to charge, one by one, while the RunCam2 is used just for batteriesries charging.

Good battery

Posted by rob on 25th Jun 2017

Its a good battery. And it has survived some very brutal punishment. With that being said I've had a battery with an issue very early on. Thats why 4 stars.....not perfect but what is.

Runcam2 Battery

Posted by Eph Robbins on 14th May 2017

Thanks for the invite to review this product. It's a battery it stores and releases electrical energy. Seems to work great.

Servizio impeccabile

Posted by Paolo on 25th Apr 2017

Come da titolo, spedizione velocissima, prodotto super, come tutto del resto. Consigliatissimo!

If you need more than 2 hours runtime then you need this battery

Posted by Doug Dean on 11th Mar 2017

I get about 2 hours record time with my runcam2 per battery.

I don't always have access to external power so I need extra batteries. So I am glad to have more than one.

runcam 2 battery

Posted by Karim on 3rd Jan 2017

Fits good and goood quality

RC2 battery

Posted by Bill on 2nd Oct 2016

It is of course the direct replacement battery for the Runcam 2 same quality as the original. my only critique is the plastic pull tab is a bit small to grab to remove battery with fingers.

RC 2 Battery

Posted by Art De on 1st Sep 2016

Bateria para la runcam2. Recambio original, funciona perfectamente.

Excellent product

Posted by david.whitehouse4@bigpond.com on 2nd Aug 2016

Ordered this product, it arrived and very happy with service. The Run Cam is a great camera.

Runcam 2 Battery review

Posted by Aki on 15th Apr 2016

I can change the battery if it runs out of a flight session to full battery. For once, something clever!
It always pays to keep a spare battery aboard!

RunCam 2 Battery

Posted by Edgeworth FPV on 8th Apr 2016

Original battery last around an hour and a 32 gig card is about half full at the best resolution in that time frame. So instead of an aftermarket second battery I went original as the price including shipping is very good. this provides 2 hours HD recording with minimal changing. A+++

Batterie additionnelle originale

Posted by Unknown on 8th Mar 2016

Un accessoire indispensable pour prolonger la durée de prise de vue. La batterie est identique à celle fournie d'origine

Be prepared, Buy two!

Posted by Kurt on 9th Feb 2016

I just purchased my RunCam2 and wanted to be prepared so bought two spare batteries. These are not easy to come by elsewhere and were cheaper each when buying two.
I also know that I have the correct battery and not a counterfeit. Service was fast and the batteries work just fine.