Product Description
RunCam 600TVL DC 5-17V Wide Voltage Mini FPV Camera
PZ0420M
This is an optimized version of PZ0420. It still keeps 600TVL resolution and excellent color rendition, supporting 5 to 17V operating voltage. The board size is reduced to 28*28mm, which can reduce air resistance for FPV aircraft. Besides,the weight of camera is just 18g (with case SKYPLUS), 12g (PZ0420M-L28),9g (PZ0420M-L24). It is suitable for fixed-wing aircraft and Multirotor like QAV250, which are highly required in voltage and weight.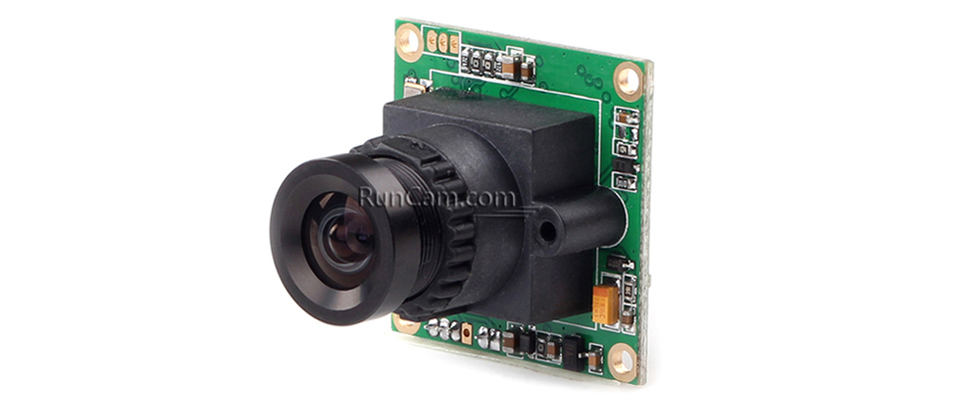 12g

Clearer

Sony CCD

600TVL

CVBS

5D-OSD

IR filter
More Colorful
It t adopts SONY CCD &Nextchip DSP, SamSung and PANASONIC's top resistor component and tantalum capacitor.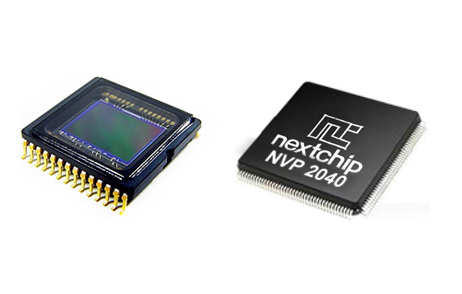 Mini Size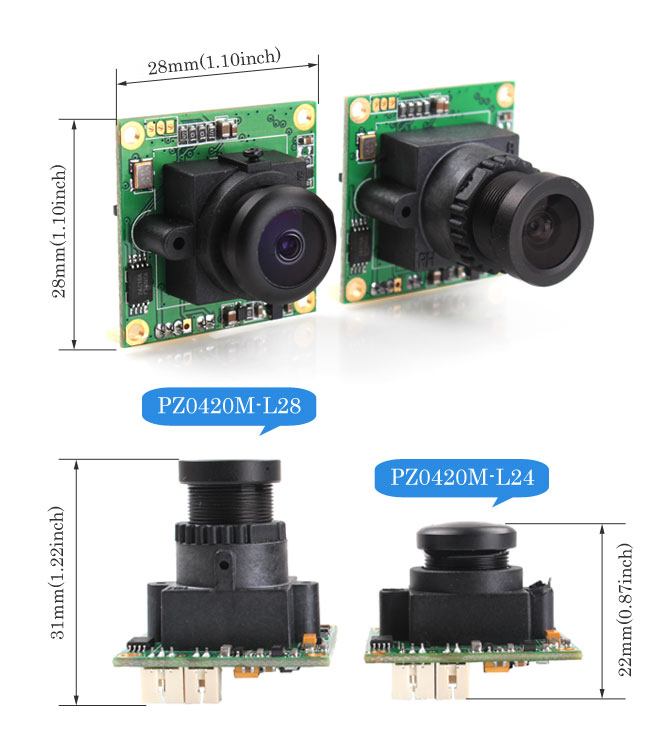 Lighter, Net Weight is ONLY 12g (PZ0420M-L28), 9g (PZ0420-L24)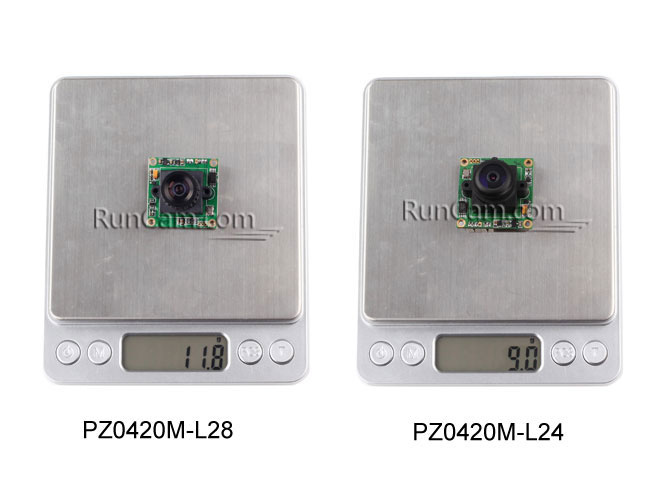 The small size and lighter weight make the camera more flexible to model planes or drones in ​​various size.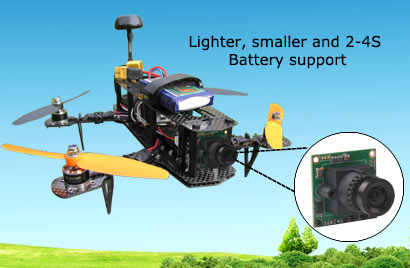 Wide Angle lens

Immersive Feeling
IR sensitive or IR blocked version for option (Video effect take IR sensitive PZ0420 and IR blocked CMQ1993X for reference.)
5D-OSD
The newly designed 5D-OSD button makes the control easier than OSD board!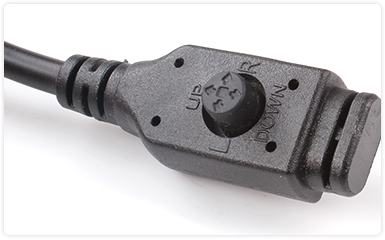 3pin FPV cable
The 400mm-long split 3pin FPV cable is more flexible for any RC airplane use!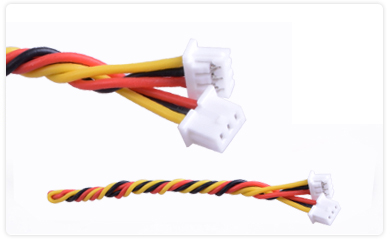 Wiring definition and accessories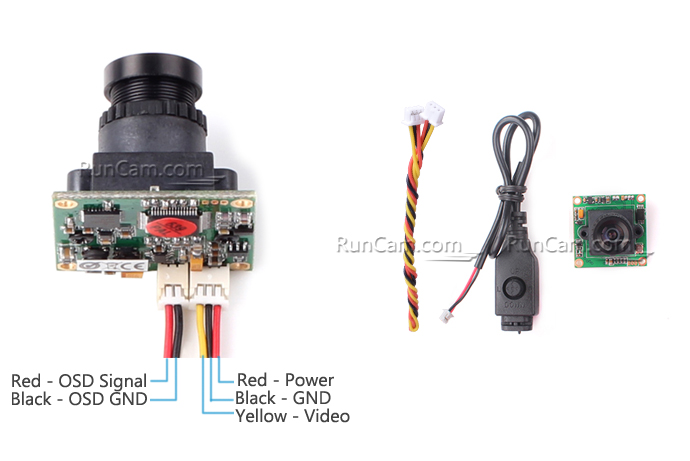 Specifications:
Color 600TVL Black & white 650TVL High Picture Quality
1/3'' SONY SUPER HAD II CCD
Support 2 to 4S battery (DC 5 to 17V) Wide voltage Power input
2.8mm/2.4mm wide angle lens
Removable 5D OSD menu
Digital Wide Dynamic Range(D-WDR)
Digital Noise Reduction(2 DNR)
Low Power Consumption
Back light compensation (BLC)
MIRROR
Anti-exposure function support car license recording(HLC)
Low illumination:0.01Lux
White dot repair(DPC)
CVBS(RCA) Video output
Image Sensor
1/3 SONY SUPER HAD II CCD
Horizontal Resolution
600TVL
Effective Pixel
PAL:753(H)*582(V), NTSC:768(H)*494(V)
Signal System
PAL/NTSC
Synchronization
Internal
Auto White Balance
Manual/Auto/Auto tracking
S/N Ratio
>60dB(AGC OFF)
Electronic Shutter Speed
PAL: 1/50 to 1/100,000sec; NTSC: 1/60 to 1/100,000
Auto Gain Control
off/low/mid/high optional
Back light compensation (BLC)
off /BLC/ anti-exposure
Motion Detection (MD)
On/Off (multi-level sensitivity)
Min. Illumination
0.01Lux/1.2F
Shading Area
8
Video Output
1.0Vp-p 75 ohm RCA output
Power
DC 5 to 17V
Negative/ positive
Negative/ positive optional
Edge light compensation
Yes
Display Mode
LED monitor/CRT monitor
Synchronize IR turn on and color turn to B&W
Yes (optional)
IR image optimize
Anti exposure of the object in the middle
DNR
2DNR
Day/ Night Switch
Auto/ Color/ B&W/ Outside control (position start and end controllable)
Day/ Night time switch
1 to 30 Switchable time
OSD
Chinese/ English Menu
White dot repair (DPC)
Yes
Image adjust
Yes
Function Control
OSD
Dimensions
28mm * 28mm(PZ0420M)
Operating Voltage
5.0V
12.0V
17.0V
Supply current
170mA
50mA
30mA
Operation Temp.
–10C to +50C
Operation Environ.
10% to 90%
Package
1 X Camera
1X OSD Menu Cable
1X FPV Cable
1X Manual
Download

User Manual
Other Details
Weight:
0.32 ounces (9 grams )
Product Reviews
Write Review
capuder.uros@ siol.net

Posted by Unknown on 12th Mar 2018

Best fpv camera for so litle money




Great FPV camera

Posted by Paulo Coelho on 3rd Mar 2017

This is a really great camera for FPV, light weight and small size makes it a good choice for mini quads. These give a nice clear image on my Fatshark HD v2 goggles. They also work well in low light situations like after sunset.

Great small FPV camera

Posted by M.BENNY on 26th Oct 2016

Great small FPV camera

PZ0420M-L28 - Not bad

Posted by Unknown on 25th May 2016

I installed this camera on my FPV quad and it works great.
The resolution it gives in my goggles is great.
Definitely recommend

Super quality FPV

Posted by Alex Petrochenko on 13th May 2016

It's definitely my best fpv camera. I've bought 5 already for drone racing :) My team used them at World Drone Prix and
took third place!

My favorite fpv camera

Posted by Paul on 16th Apr 2016

Used on my mini Skywalkers....favorite is the IR cut filter 2.8mm lens (or larger). Best color, detail, with little or no glare.

very good product

Posted by Stephane. on 12th Apr 2016

i bought this cam because the new runcam sky2 is unavailable everywhere, and i installed it on my 250 racer. amazing picture compared to the stock one....!!
smaller, lighter, and much brighter....!!!! colors are very nice, and if you are looking the sky with sun, you can continue to see the ground, it s so good...!!



good

Posted by Unknown on 10th Apr 2016

good

Total change FPV

Posted by JOSE on 10th Mar 2016

Total change in the FPV flight, with extreme changes in light. No longer problems with the shutter.
fully recommended

Very good fit fir my maltycross 220 race quadcopter

Posted by Unknown on 25th Jan 2016

Nice wide angle and very good picture quality.

Super on a ZMR180

Posted by Remco on 11th Jan 2016

Installed this camera with 2.4 lens on a ZMR180 as FPV purpose. Super quality, never regret buying this one by recommendation of a friend. Super easy to mount, precise fit on a small frame like that. Also in difficult light conditions it works really good out of the box without tuning the parameters in the OSD menu (didn't even do that!).

great picture

Posted by Unknown on 23rd Nov 2015

The best picture I have seen in fpv. It was hard to mount in a quad. different mounting options for this camera would be great.

Awesome

Posted by Neil de Vries on 18th Nov 2015

Great camera!
Fantastic that it is multi voltage.
The Low light capabilities are great!
Couldn't ask for more in an FPV camera.

nice piece of hardware

Posted by fpv flyer on 10th Nov 2015

it came nicely packed, shipping was fast enough (for free shiping), nice costumer care, about the performance: no need to say much, internet is full of videos wich compare this product with other cameras, it just can handle great any light condition, size is very nice, and osd menu with remote is nice option to have. owerlay is great product for its price !!


Best cam I've ever had!

Posted by Dennis on 4th Nov 2015

Compared to other cameras with the same equipment e.g. Fatshark CMOS 600TVL this nice little cam is awesome. OSD function without extra need of external power, great light-low light balance and a great form factor.

I'm flying the cam on a racequad utilizing the 2.1mm wide lens which give you a great wide view and good colours. Highly recommended!

the standard

Posted by michigan fpv on 25th Oct 2015

The go to camera

Better then board mount

Posted by Watchmaker Lam on 8th Oct 2015

with the shell I can crazy fly, dont need to care abt the crash.

IR function very fast, nice video quality, nice weight, nice outlook.

Runcam Skyplus

Posted by Zenkins https://m.youtube.com/user/zenkinsw? on 6th Oct 2015

It's great little camera, osd cable doesn't need extra power connection which is great idea as I can adjust directly with vtx on to match with my goggle. Adjustable height camera mount also great.

The only disadvantage is the case a touch heavy and thicker compare to others but it is acceptable, for 180 like tweaker case might hit the front Standoffs if tilt up very high.

Light sensing is great no worries even fly toward the sun or going to somewhere very dark, color also appear better than other brands too.

Strongly recommended

WoW so fast camera!

Posted by Andrius Stasauskas on 1st Oct 2015

This camera is one of the fastest I had ever owned. I have just received it, connected to 12.2V power supply and my 47" LCD TV, changed a few settings and tested the response.. Its FAST, lighting FAST. On the box labels SKYPLUS-L28-P (no markings on the case though), it should be IR sensitive PAL version. If its IR sensitive, then color quality is SUBERB! Only thing I have not yet tried is micro minimOSD with KVmod, but internal OSD connected through the cable works great. Maybe I will write another review after my quadcopter is done in several months :)

its like not being afraid of the dark

Posted by Unknown on 4th Sep 2015

Tree cover to Sunny sky is no longer impossible. This plug and play is above average.

PZ0420M

Posted by Michael G. on 2nd Sep 2015

-Small size and light weight perfect for 250 size quads.
-Excellent video quality.
-Simple FPV hook up and integration.
-Logical OSD adjustments.
-Quality components.
-ALL required hook up accessories and cables included.
-Great packaging.
-Super Fast FREE shipping!
-Old School; Customer service is a HIGH priority!


Excellent camera, cheap price

Posted by Unknown on 4th Jul 2015

The camera was very easy to install and configure. Works great with my 600 mW transmitter and FPV goggles. I'm definitely looking forward to getting their Runcam HD as the next addition to my quad.

Супер камера

Posted by Денис on 25th Jun 2015

Эта лучшая камера для FPV гонок. Нулевая задержка и отличное качество картинки. Перепробывал много разных камер и остановился на этой. PZ0420M самая лучшая

Best of the best

Posted by Milan Gunjevic on 2nd Jun 2015

You all know that this is the best FPV camera that a person can buy...
This is my second PZcam and I'll continue to follow great work that RunCam team are doing and I'll of course buy again one of these cameras...

Great colours, great light adaptation, small size and weight...
Nothing but the best!