Product Description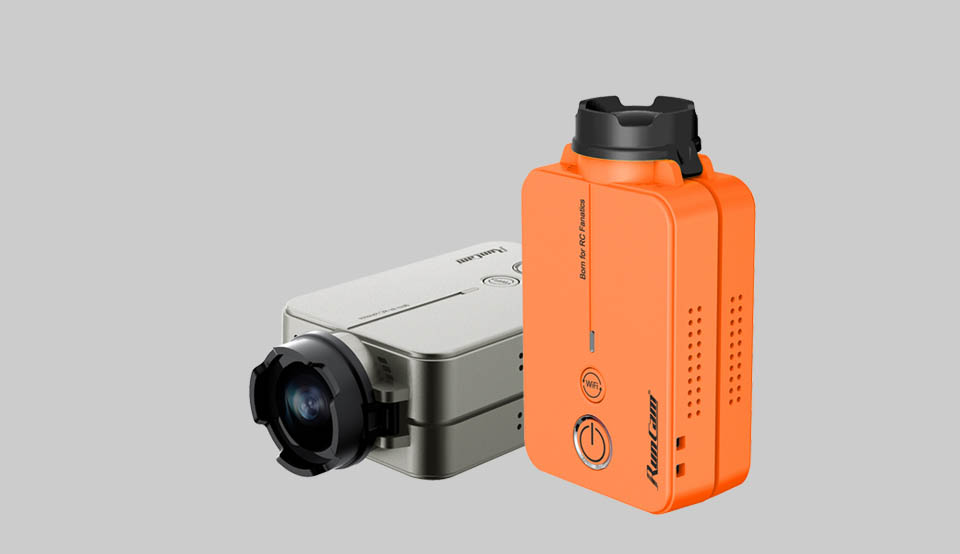 RunCam 2
Born for RC Fanatics

Lens Hood Specially Designed for FPV
The replaceable design is beautiful and
exquisite, better protects the lens against
stray light and glare.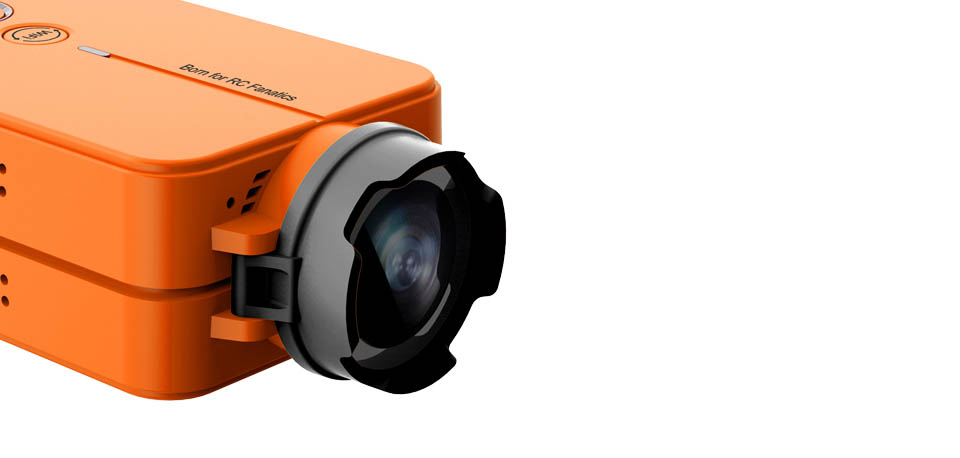 Better Appearance
More Advanced Technology
GE PC/ABS blend thermoplastic.
Matte surface.
Wear-proof UV coating.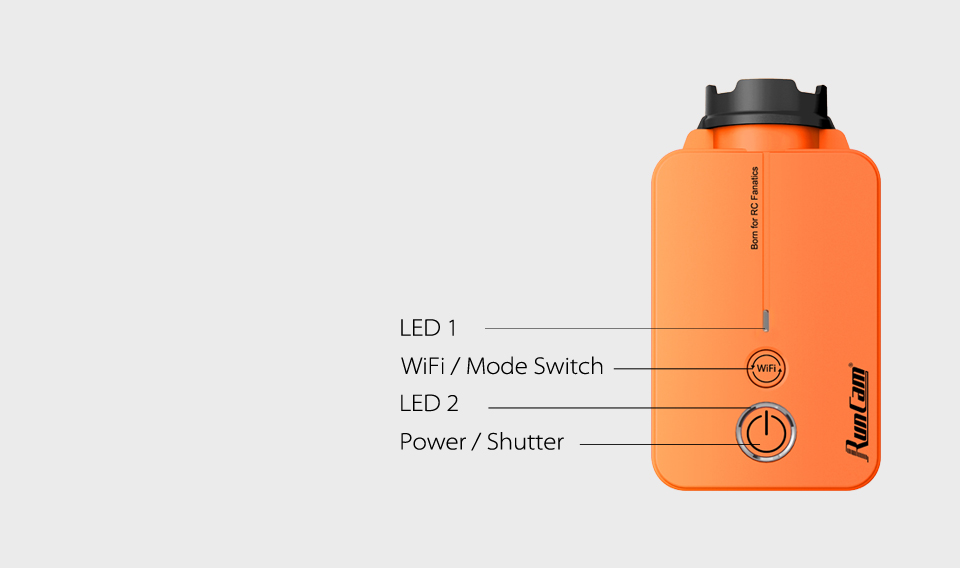 Better Button Structure
New Touch Feeling
Ergonomic button design
LED light ring: easy to read from any angle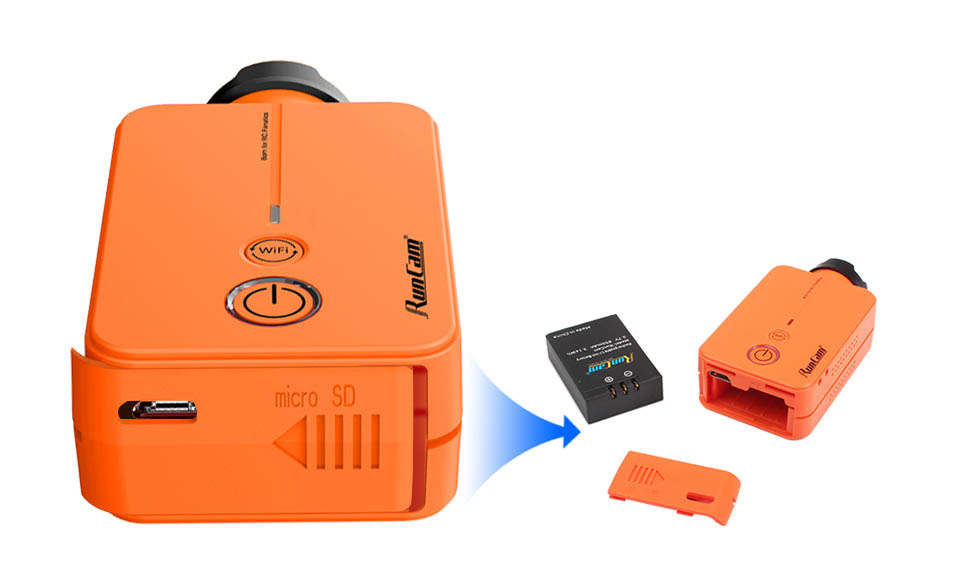 The bottom door keeps the micro
SD card from popping out in crash.
850mAh Replaceable Battery
90 minutes under 1080p 30fps
60 minutes under 1080p 60fps
The lightest FPV HD camera
49g (with battery) / 35g (without battery)
5V-17V wide input voltage / Charged through USB port
Power supply: powerbank, phone charger or 2-4S batteries

Anti-interference PCB can effectively reduce RF interference.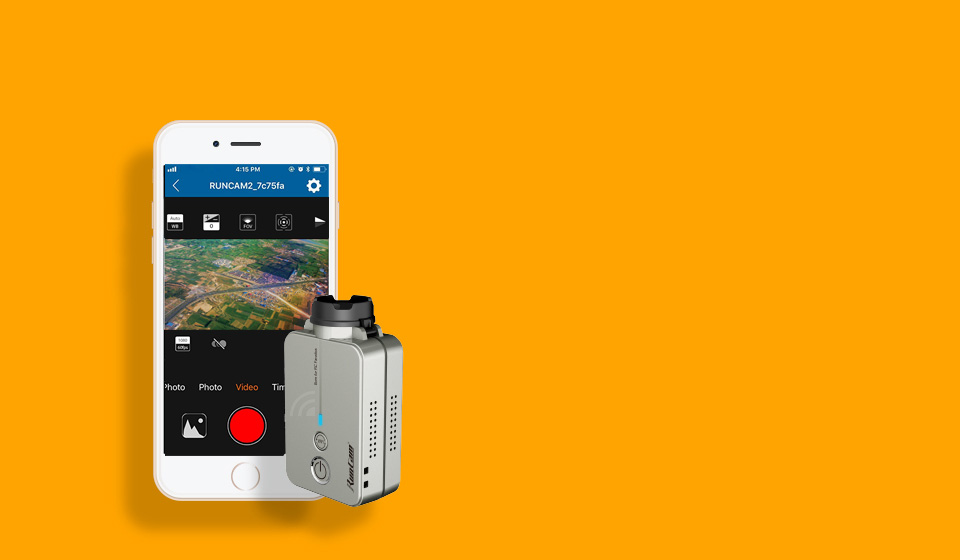 Package
1 X Camera

1 X 1/4 Tripod adapter

1 X Mount

1 X USB cable

1 X Servo to RCA adapter cable

1 X TV-out and power cable

2 X Velcro and ties

1 X Battery

1 X Manual
Parameter Settings
| | |
| --- | --- |
| Field of View(FOV) | FOV 120° |
| Sensor Resolution | 4 megapixels |
| Video Resolution | 1920*1440@30fps / 1080p@60fps / 720p@120fps |
| Video File Format | MOV |
| TV Mode | NTSC / PAL Switchable |
| Interface | Micro USB |
| Max Micro SD Card Supported | 64G(need class 6 or above) |
| Image Flip(Manual/Auto) | 180° Rotation |
| Dimension | 66mm(L) * 38mm(W) * 21mm(H) |
| Battery Capacity | 850 mAh |
| USB Power Input | DC 5V-17V |
| Working Current | < 600 mA |
| Weight | 49g(with battery) / 35g(without battery) |
Package
1 X RunCam 2
1 X Mount
1 X 1/4 Tripod adapter
2 X Velcro and ties
1 X USB cable
1 X Servo to RCA adapter cable
1 X TV-out and power cable
1 X Battery
1 X Manual
Download

User Manual
Product Reviews
Write Review
Showing reviews 1-50 of 87 | Next
Good Camera

Posted by Unknown on 30th Jul 2018

Video quality is pretty good for its compact size.
Great for airsoft, drones and rc vehicles. Love how easy it is to swap out lenses.

Very good FPV cam

Posted by Paolo Cestelli on 28th Jul 2018

Is very little but the quality of image is very good.
At the moment is the best cam with the best price, thanks !

Very Nice!

Posted by Sergey Chudnetsov on 29th Sep 2017

The camera is very good.


Good but...

Posted by CC on 25th Sep 2017

Video is pretty good however it runs hot after a few minutes of recording. Would love to see if it there's a firmware update to increase bitrate, get 240FPS and still be able to run cooler than now.

Headline :D

Posted by Maulana Radi on 27th Aug 2017

8/10
pros:
+nice design
+great spec
+great videos result
+best for airsoft scope cam :D

Cons
-mic a bit like mumbling
-device still alot of bugs and problems
-sometimes when recording, its beeping and wont record, so i must factory reset every time its errors and problems

note:
>next batch please include the "go pro mounting" inside the box
>please fix the bugs, device bugs and another problems
>sorry for my bad English :)

Better Manual required

Posted by Bill on 24th Aug 2017

Camera seems to work well. Good pictures. However the User Manual is very poor and should be revised to give the user confidence in operating the device. Otherwise it seems just guess work as to what the camera is capable of.

Best one for scopecam

Posted by Taichou on 6th Aug 2017

Good product , Record and captue quality is excellent , i will arrange that can for scope cam with when i play airsoft.
So small and best

Good ! Beautiful Videos

Posted by Jonathan GUERIN--BONHOMME on 18th May 2017

This camera is good ! Small, light, with a good resolution.
Smallest problem : bugs with RunCam app. When the app don't respond, 2 buttons don't work. I must remove the battery to reset him.
Charge is good ! Good autonomy. Very nice screens, videos.

Very Nice

Posted by TurboTyler on 4th May 2017

I really like everything about my RunCam2 170 degree FOV camera. I like the app as well and I can adjust the FOV down and get less of a fish eye lens effect if you like. The picture is really clear when reviewing the footage afterwards at home on a big screen tv. I mainly use mine for fixed wing models such as flying wings as the form factor is perfect. Thanks RunCam for a great product.

RunCam 2 Great Camera

Posted by Ralph Craig Sr. on 27th Apr 2017

I purchased my RunCam 2 a couple of months ago. It takes beautiful videos I also downloaded the App on my 8" Amazon tablet and it works great. I bought my RunCam in Orange for better visibility on the front of my quadcopter and in case I drop it somewhere. For the price you can't beat the quality. I also am going to use it as a car cam.Don't be afraid to purchase it.

FPV Cam

Posted by DAVID on 26th Apr 2017

I love this cam, easy to use and the result is perfect !

A good camera for mounting on my model planes

Posted by Doug Dean on 11th Mar 2017

This is the wide field of view model with FOV of 170 degrees. It captures all of the important stuff with ease. I am using it mostly with the hobbyking quanum V2 docking station with builtin transmitter. It is good enough for using the broadcast for FPV. It also records the flight if I start the camera before each flight. I also have a go pro hero4 but is is more expensive so I do not risk flying with it and besides the runcam2 video covers a wider swath than the go pro and has better quality besides.
I love my runcam2 and plan to get another or perhaps the runcam3 cube.

Way better than a go pro

Posted by Morgan YouTube- MODMasterOfDrones on 24th Jan 2017

I absolutely love this amazing and perfect pocket size HD camera. I use it almist every day on my race wing, making reviews for YouTube or just Vlogging. The cost to quality is unmatched. On top of excellent customer service make buying RunCam products a " no brainef" I FPV every day and it's important that my rquipment works well and delivers for me. RunCam has been a home run so far. The vividness of color is way better than the competitors . One of the best features is the wifi and the IOS App that works seamlessly with your device and allows you to change settings and ptefferd bit-rates and for streaming or diwnloafing. The only negative is a short battery life but extras are under $10 a pop. In addition the ability to use the runcsm2 as a VTX camera and externally power make this my absolute favorite camera for 2017

Best Value

Posted by Padraig on 10th Jan 2017

By far this is the best value for a small HD action camera. GoPro is still the Cadillac but you pay a price for it. I know I feel better knowing I only paid $80 for my camera since the tree doesn't care how much I paid for it.

Value for money

Posted by Knut Neumann on 7th Jan 2017

Just having the option pairing the cam with ones phone makes it worth while having.
What I would like to see is a lens cap, which would protect the lens better when the camera is not in use,
like on my Mobius.
If I compare the 2 cameras, I do think this is the better one. Picture quality is definitely better.
Having access to the battery is also a great improvement.
Overall 4 out of 5.

Superbe caméra HD

Posted by Barry on 29th Dec 2016

Franchement caméra au top, la qualité d'image est vraiment là. Il s'agit ici d'un must have pour mettre sur mes multirotors et ailes volantes.
Pourquoi 4 étoiles uniquement ? Deux points négatifs: le son qui est vraiment pas terrible et l'ouverture de la lentille qui gagnerait à être un poil plus grande.

Best HD camera to use on my FPV model (quad and wing). Two little problem: not a good micro and lens angle sould be a little wider.

The new RunCam 2

Posted by Unknown on 27th Dec 2016

I have to say I love this camera! No more gopro for me! The video quality is just as appealing. However the RunCam 2 is a smaller and lighter package! Love the fact you can use it on smaller aircraft without the battery to save weight! ;)
With the new RunCam 2 I don't see any reason to use the blocky and bulky competition.
Great Job RunCam!!!

livraison

Posted by BeeFree on 26th Dec 2016

ressue en France 2 semaine après commande le coli est en très bonne état bien emballé est complet très satisfais

Great RC camera

Posted by Blaine Zaid on 19th Dec 2016

I just switched to this from the old Mobius w Lens A (regular). I'm very impressed with the bright & sharp video it produces. The design is good and it works very well with the cell phone app for doing the settings and making sure the view is right before you take off. Only limitation I've seen is lower video quality in very dim light (did one in a restaurant), but that is true of all small cameras. For RC it's perfect ! I did my first flight with FOV set at medium, and the scenes were excellent with little fisheye effect.

great picture quality

Posted by JAMES BEARDSLEY on 19th Dec 2016

Although it's rather large, the picture quality is great. At first i thought the WiFi would have a longer range, but to at least be able to change settongs on the fly was great.

I had the first version, but after one crash on cement, the lens was damaged. I hope these hoods will prevent that.

Runcam 2- awesome

Posted by William Rendall on 10th Dec 2016

This is a great camera. My second (after losing one when my quad disappeared in the bush).
The only critique or rather suggested addition I have is I wish there was a clip on holder to enable an FPV TX to be attached for FPV ops.

GoPro Killer...lol

Posted by Jerry Allaire on 8th Dec 2016

Why pay over 500 $ for gopro when you can buy this amazing cam for 80$ and does more you can see real time on phone adjust all setting on your phone love it. video quality is amazing nice and small and centered not like gopro. Put on drone right in middlle...lol...and the support is awesome would recommend to everyone

Awesome recorder

Posted by Christopher Whitmer on 29th Nov 2016

This camera takes awesome video. Much more simple to use than the GoPro. And the app. For the android is unbeatable... Thank's RunCam!!!!!

parfait

Posted by laurent huchet on 17th Nov 2016

Cette micro caméra est parfaite, et depuis la mise à jour de l'application tous les paramètres sont accessibles.
À recommander.

RunCam 2-Great Camera!

Posted by Dan Davis aka 'Professor' on 23rd Oct 2016

The video quality is excellent! I connect to my iPad using the app and it works flawlessly.

Great product

Posted by Tommy Georgiopoulos on 25th Sep 2016

I'm a professional Competitive Shooter and wanted a hat cam that can record a first person view of my shooting. I took it to the range for some test video and the quality of the video was amazing. The only small problem I had was the audio could be a bit better. I also like that there is an app on my phone that can change all the settings and link it to my camera.

That's right, one of the best.

Posted by Unknown on 20th Sep 2016

Love it. those every thing, it is suppose to do.-
Delivery very fast, service No 1.-


One of the best

Posted by Revs on 14th Sep 2016

This is a great cam. The app and functions works well. The image quality is very good and there isn't too much compression, though less is would always be welcome. Quality suffers quite a bit in low light though. The audio is very poor too; very muffled.
The casing is tough and the lens protector does it's job well. Battery life is reasonable and the lipo is easy to swap.
This is a perfect cam for small racing quads where weight is a major factor.

Great camera

Posted by James Malone on 17th Aug 2016

This is my second RunCam 2. The first one got destroyed in a major high speed collision with a pile of bricks when my plane nosed in from 70 feet. This camera is great for FPV and videos. Now that I have the remote cable I can also take photos while flying. The image I get on my 5 inch monitor with 800x480 resolution is fantastic. I highly recommend this camera.
I would also like to thank RunCam for their support and great customer service team. Best company I have ever dealt with.

RunCam

Posted by Lyle Hunt on 16th Aug 2016

Excellent camera, very stable, easy to set up before and in field. Well built.

runcam 2

Posted by mike on 11th Aug 2016

great product pleased with the quality for such a small device

Exellent camera!

Posted by Vitalii Filipenko on 30th Jul 2016

Great camera for FPV. High-quality, light and narrow, for a reasonable price.

Great Camera and Service that went above and beyond my expectations.

Posted by Shervin Saffari on 15th Jun 2016

I ordered the Runcam 2 when they were taking pre-orders. My camera recorded and functioned fine, but it ran hot and the battery would get consumed quickly. I thought this was normal. Months later I decided to use it for fpv and noticed I do not get any video out. After posted on the RC Groups thread I was told by customer service to reach them.
I did and they quickly determined i have a faulty unit and sent me a replacement Runcam 2. I was scared at first since dealing with overseas companies and service can be a pain... But when runcam said a new camera is on its way.. I was flabbergasted and delighted! Lucky for me their USA warehouse is less than a mile from my apartment! So I got the camera within 24 hours. It outputs video to my fpv transmitter perfectly and runs cool to the touch with better battery life. I couldn't ask for a better customer service experience. I highly recommend their quality products and friendly service. I will happily continue to buy runcam products.

satisfactory

Posted by Nick on 14th Jun 2016

Captures some time the trip and others times not.
Instructions tell you to use without battery when plugged into power supply, but it is touch and to if it works that way.


Best cam for FPVracing

Posted by Paul LEMEILLE on 13th Jun 2016

Very good picture, small and lightweight. The best

Good little camera

Posted by GJ on 11th Jun 2016

I bought this camera for FPV to save some weight compared to my Gopro 3 black.
Great picture considering the price difference. Shipping was quick to Australia (7days!)
Quite happy with this purchase.
If the PAL output gets corrected in a future firmware update to 25/50fps it would deserve that fifth star.

Great little camera

Posted by Kingsley Neumann on 2nd May 2016

I wanted a small, easily mounted camera for Air to Ground Photography. This one is very good and I am glad I ordered the optional mounting system. The iPhone App works well for set up. You must ensure the battery in the camera is fully charged for the WiFi.

it's awesome

Posted by Unknown on 23rd Apr 2016

It is tough, does a nice video, great for racing drones.

Very good product.

Posted by Lionel on 23rd Apr 2016

I use the RunCam 2 to take videos of my son while we play outside together. The image quality is great and the sound is not bad at al. My only gripes are the battery life is rather short, and that there is no separate charger for the batteries. That said, if you plan in advance you can change batteries on the fly so it's not that big of an issue for me.

Very solid product.

RunCam 2 Orange

Posted by Edgeworth FPV on 8th Apr 2016

I brought the Runcam2 as a replacement for the Mobius that cooked itself after a mediocre crash on my Quadcopter. I like the lens protector and the robust construction of the Runcam and the bold colour that is easy to find when the camera is crash ejected. The SD card is also locked in behind a snug rear compartment door so it isn't thrown away in a crash as well. Picture quality is very good and is on par with other better Action cameras. The Runcam2 feels sturdy in your hand and will run on 4s (if you want to remove the battery) and use the separate power wire. I have not used the Wi-Fi function. It is a very good camera for FPV (you could even use it as your flight camera to as the latency is minuscule).

Great little user-friendly camera

Posted by Niels on 3rd Apr 2016

I got this camera because I was disapointed in a similar form factor camera ( from another manufacturer). It has a great wide angle view and the best thing is that you can use the App on your Android or IOS device to view what is seen by the camera in realtime. Connecting over WiFi is done very easily and in comparison with other 2 button only camera's it is very user friendly!
I have yet to connect it to my FPV quad, but my first indoor and outdoor tests show good movie quality, I would recommend this camera to anyone looking for something light and easily usable!

Oh, and I love the orange color!

Really good camera

Posted by Juanjo Martí on 20th Mar 2016

I choose this camera after look for some kinds of this cameras. I'm really happy with my decision.
It's a great camera. Wifi option and app is a good tool to config the camera very easy.
The quality of films are fabulous.

This is a filmation with it: https://www.youtube.com/watch?v=PnD4q-XXgSo

Great cam for the FPV Racing Quad

Posted by Thanh Tung on 19th Mar 2016

Compare to the Runcam, RunCam2 is smoother for the video clip. Contrast, Saturation is very nice. I do racing quadcopter so Runcam 2 is one of my choice to record flying footage. It is lightest compare to Yicam (75gr) and GoPro(86gr). Price is very competitive and acceptable with its quality. A back lid is a very clever to keep the MicroSD not to pop out off the camera when it got hit.

The bad part is the dimension is vertical instead of horizon like Yicam and GoPro, so it requires more space on my drone and left a very narrow room for the drone lipo battery.

Excellent Cam

Posted by john mcphillips on 14th Mar 2016

Get a lens cap and the mounting accessories work fine, this cam beats the go pro i paid MUCH more for hands down!

works just like a go pro

Posted by john mcphillips on 14th Mar 2016

excellent resolution and high quality video

Great HD Cam

Posted by Nicholas Bauer on 14th Mar 2016

Excellent video quality. I run this cam for POV paintball/airsoft applications. The field of view is great, light correction and image stabilization are all great for this application. With the additional mounts available for purchase, the possibilities for use are endless.

Great HD Cam

Posted by steve on 12th Mar 2016

I had a break from the Runcam HD cams as version one was not living up to my expectations, I recently bought 2 of the Runcam 2's and found them to be a great little camera, great picture, well built, love the removable battery idea and the fact the cam comes with a whole heap of useful goodies is a bonus.

Only two thing sI can say that I don't like is that sometimes when you crash your multirotor the battery inside the cam must move just that little bit that it disconnects power and you lose the awesome crash footage. Second is the sound ..granted you get wind noise while zooming along on a quad but it is also a lilttle muffled.

Great Camera

Posted by Isaac Gutierrez on 11th Mar 2016

After I updated mine to get rid of the bullseye effect I have been rather pleased with the video quality.

Although I have seen a few hiccups with *mine* at least.
When I attempt to play a video back via wifi the video never plays back smoothly and buffers often. I'm not sure if that is common but I have tried several different devices and same results. Even in the middle of nowhere and it's the only thing broadcasting wifi, same problem. At best I just use the app to make sure the image I want to capture is in frame.

Another thing I have noticed, but is not a big surprise is that if the camera has a good enough jolt while recording the SD card seems to move internally and it will corrupt the file and I will have to reformat my SD card before its ready to record again. That is when the Wifi capabilities comes in really handy.

With that being said my Runcam 2 has taking a few good tumbles and once was ejected from a crash into a dry river bed full of rocks and came out just fine, got really lucky on that one.

One of my favorite things about the camera is the Bright Orange color. It really makes locating it much easier and the battery door that covers the SD card really gives a piece of mind that I don't have to do additional search patterns just to locate my stuff.

Additionally I have heard about some people not liking the audio quality and I agree it is muffled compared to other cameras but I actually like that rather then overly loud noise of my quadcopter. I understand if someone wanted to record audio/video for purposes other than just R/C models and really would like better audio, but for my application I like the muted audio that it has.

Overall I'm very happy with my purchase.
Now to get an owl!
Thank Runcam!

very good camera.

Posted by Unknown on 11th Mar 2016

Pros :
Form factor
Wifi
1080p / 60fps
Build quality

Cons :

Lens à little bit to narrow
Runing time a bit short (@1080p / 60fps)

Briliant Video

Posted by Martin on 8th Mar 2016

The best video yet of the three cameras that I have bought so far. Mounts well on my Quad. and handles light changes well. Needs the on-screen date bug fixing (while disconnected from App.) and I'm unable to turn off Image Stabilization. As others have noted it also requires a better set-up manual and system. Apart from that, well done RunCam - a great device!
Showing reviews 1-50 of 87 | Next