Set of Mounts for RunCam 2/RunCam2 4K
Set of Mounts for RunCam 2/RunCam2 4K
Get a $5 cash coupon by joinning our Facebook group.
Product Description
This is a set of mounts for RunCam 2, and it can fix the camera at the forepart of helmet to capture the selfie or view ahead.
Features:
Applicable for fix on the forepart of most helmets.
Capture the footage, selfie and video ahead.
To remove the adhesive mounts, you can use a hairdryer or heat gun to soften the adhesive and slowly peel it back.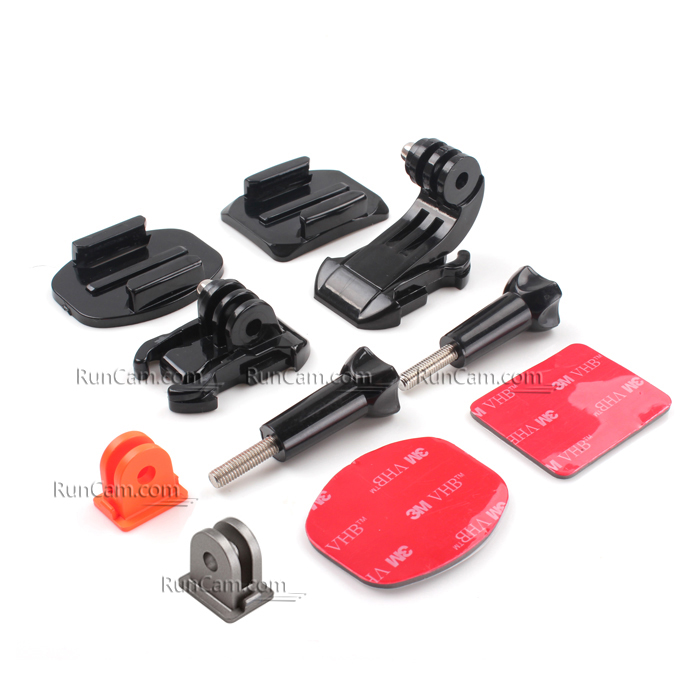 Package
1 x Curved Adhesive Mount
1 x Flat Adhesive Mount
1 x Quick Release Buckle
1 x Vertical Quick Release Buckle
2 x Gopro adapter (orange and silver-gray)
2 x Thumb screw
Product Reviews
Write Review
Great Choice of Mounts

Posted by Francis on 10th Apr 2021

Very comprehensive set of Mounts. Can be used to mount on all sorts of things, like my Drone for instance!.

Set of Mounts for RunCam 2/RunCam2 4K

Posted by Walt on 25th Mar 2021

Works perfect--used to mount runCam2 to hat mount

Mount this GoPro

Posted by Christopher Whitmer on 29th Nov 2016

It is a nice compact mount. Perfect for mounting on gun or compound bow.

Great mount for the money

Posted by Unknown on 17th Aug 2016

Fits the Runcam base perfectly, adjustable angle, offset so camera doesn't stick up or out too far. Attention to detail is impressive, includes silver and orange mount pieces to match the camera color you have. Comes with genuine 3M dual sided tape.

szuper, egyszerű

Posted by Morzsa on 27th Jun 2016

Szuper tartó. Más kamerákhoz is ideális lehet.

Perfect Fit

Posted by Kingsley Neumann on 2nd May 2016

The mounts are a perfect fit for my Multiplex Easy Star. The curved one is my choice for the wing surface.

mounts

Posted by Aki on 15th Apr 2016

Facilitating the transfer of the camera device to another

solid mounts.

Posted by Andrew on 27th Feb 2016

This mount set is made strong and should last a long time. They should add the gopro adapter to the RunCam 2. Instead of having to buy it separately. But there quality just like there cameras.